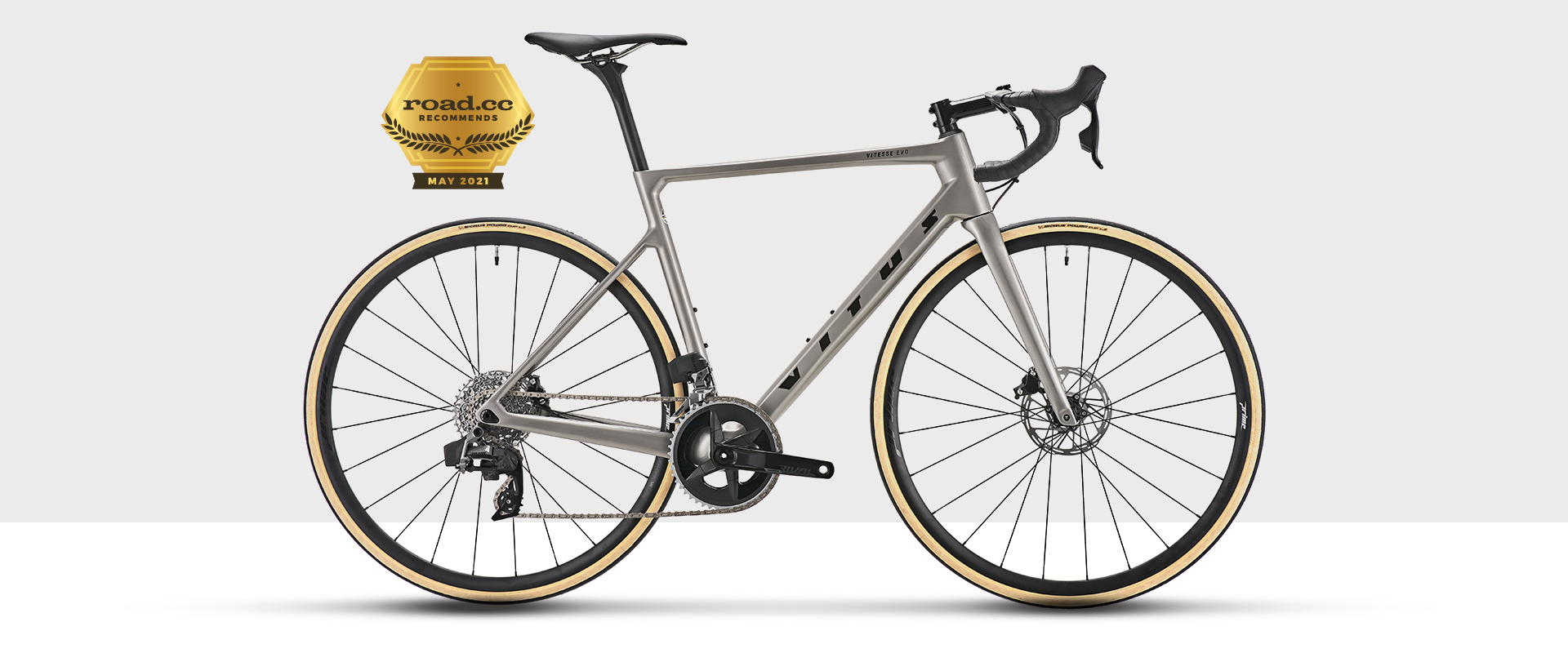 The Vitus Vitesse EVO, with SRAMs latest RIVAL AXS wireless electronic components, is a lightweight racing road bike. But this isn't just a bike for the rising road, because what goes up must come down. Sharp on the climbs, but also agile on descents and capable of holding speed on the flat. To be a great all-round road bike, to a win a Grand Tour even, it has to perform everywhere.
The Vitesse has been on a redesign journey, and this new EVO features our latest one-piece carbon frame. Not only does it look clean (and fast!), the seamless design has no joins and there is no extra material being used to bond the frame together, keeping weight down. So you will still get the goosebumps of excitement when you feel it for the first time. "Phwoar! That's light".
And then you'll start rolling and realise that there is so much more going on here to benefit your riding. The geometry is optimised, giving you control through turns whilst also being responsive to bursts of acceleration or steeper ramps. Stiffness is engineered into the frame where you need it most, so precious energy won't be wasted - something we all need on those long, hilly days. And the modern frame clearance enables space for a bigger volume tyre as well, smoothing out those real world road surfaces.
The Vitesse EVO is a masterful climber. When you dream of dancing on the pedals, floating up legendary climbs and scorching personal bests, this is the bike you do it on. And when you roll over the top and hit the descent, there's no teetering. No indecision, just pure control. A bike that lets you relax and carve the perfect line.
Race-Fit geometry
SL UD Carbon aero frame and fork with integrated seat clamp
SRAM Rival AXS HRD groupset
Prime Attaquer V2 Disc Road wheelset
Michelin Power Cup Classic 700x25c tubeless ready tyres
Lightweight Prime finishing kit
Features:
EVO Carbon Platform
Race Performance
Frame Material
SL UD Carbon
Wheel Size
700c
Available Size
XS, S, M, L, XL, XXL
Colour
Silver
Weight:
Medium: 7.7kg
£3,499.99
Shop with Preferred Partner
ROAD CC - Vitus Vitesse EVO RIVAL eTAP REVIEW

The Vitesse EVO eTap AXS Rival is an absolute belter of a bike! Vitus says the new frame is stiffer yet lighter, and the geometry puts you in the right position to ride fast and hard – whether you're a racer or just like to pelt around the lanes. A full wireless eTap groupset at this price is hugely impressive, too.

Read more...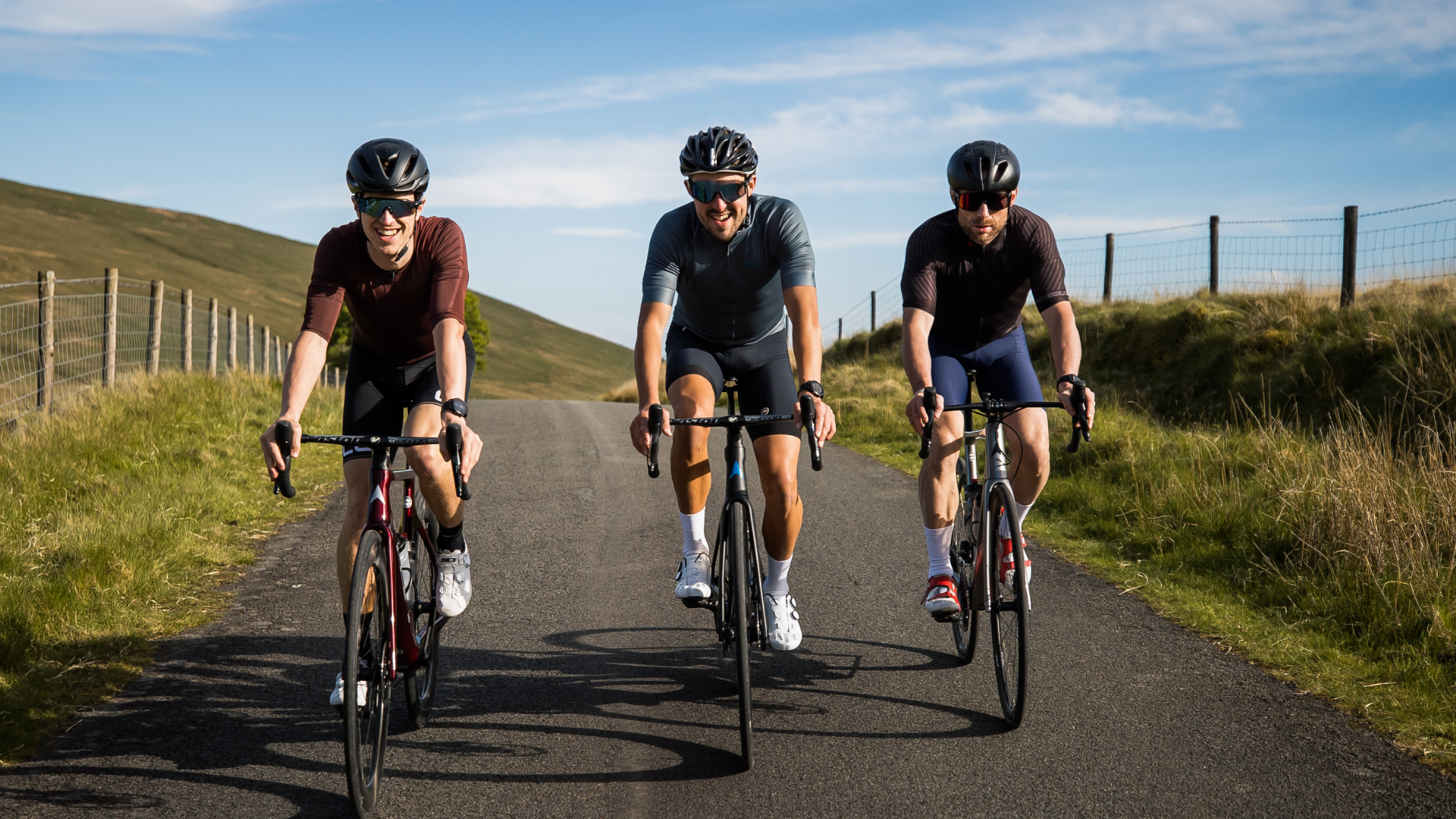 Specifications
FRAMEVitesse EVO Carbon

SL UD Carbon, UCI Approved, Internal Cable Routing, 12mm x 142mm Hub Spacing, Flat Mount, Axle Specifcations: 172mm Length, 14mm Thread Length, M12xP1.5 Thread Pitch

REAR HUB Prime SR1

142 x 12mm, Centre Lock, 36T Ratchet System, XD-R Freehub

FORKSVitesse EVO Carbon

SL UD Carbon, UCI Approved, Tapered Steerer, 100 x 12mm, Flat Mount, Size Specific Offset

WHEELSET

Prime Attaquer V2 Aluminium Clincher Disc Wheelset

700c, Tubeless Ready, 100 x 12mm Front, 142 x 12mm Rear, Centre Lock, XD-R Freehub

CHAINSETSRAM Rival D1 DUB

48/35T, XS:165mm S:170mm M:172.5mm L:172.5mm XL:175mm XXL: 175mm

FRONT TYREMichelin Power Cup Classic TS TLR

700c x 25c, Tubeless Ready

BOTTOM BRACKETSRAM DUB BB386

DUB for BB386EVO

REAR TYREMichelin Power Cup Classic TS TLR

700c x 25c, Tubeless Ready

FRONT DERAILLEURSRAM Rival AXS

2 x 12 Speed, Braze-On

BRAKESSRAM Rival AXS D1 Disc

Hydraulic Disc, Flat Mount

REAR DERAILLEURSRAM Rival AXS

12 Speed, Short Cage

BRAKE ROTORSSRAM Paceline

Front:160mm, Rear:140mm

FRONT SHIFTERSRAM Rival AXS

2 x 12 Speed

HANDLEBARS

Prime Primavera Carbon Aero

UD Carbon, Rise: 78mm, XS:380mm S:400mm M:420mm L:420mm XL:440mm XXL:440mm

REAR SHIFTER

SRAM Rival AXS

12 Speed

STEM

Prime Doyenne Lightweight Aluminium

Bar Bore 31.8mm, +/- 5 degrees, XS:90mm S:100mm M:110mm L:110mm XL:120mm XXL:120mm

CASSETTESRAM XG 1290 D1

10-33T, 12 Speed

HEADSET

ACROS Aix-Low R3

Sealed Bearings, OD46, 1 1/8" – 1 ½", 41.8 / 28.6 – 52 / 40

CHAIN

SRAM Rival D1

12-Speed

GRIPS

Vitus Super Grip

Anti Slip

FRONT RIM

Prime Attaquer V2

Aluminium, Tubeless Ready, Disc Brake, Rim Depth: 30mm, Inner Rim Width: 19mm, Outer Rim Width: 22mm

SADDLE

Vitus Race Performance

CRN-Ti Rail, Pressure Relief Channel

REAR RIM

Prime Attaquer V2

Aluminium, Tubeless Ready, Disc Brake, Rim Depth: 30mm, Inner Rim Width: 19mm, Outer Rim Width: 22mm

SEATPOST

Prime Primavera Carbon

27.2mm, 10mm Offset, XS/S: 300mm M/L: 350mm XL/XXL: 400mm

FRONT HUB

Prime SR1

100 x 12mm, Centre Lock

SEATCLAMP

Vitesse EVO Integrated

Internal Wedge System
ONE PIECE MONOCOQUE FRAME

A true one piece monocoque frame manufactured as a single piece of super light UD carbon. No joins, so greater strength and lighter weight.

DUAL FORK DESIGN

Frame size specific fork geometry maintaining fit and handling characteristics across the full size curve.

IMPROVED TYRE CLEARANCE

The new Vitesse EVO frame now has 30c tyre clearance across all frame sizes and even up to 32c depending on the rim/tyre combination.
Geometry & Sizing
Model / Size
XS
S
M
L
XL
XXL
(A) Seat Tube - CT
470
490
510
530
550
570
(B) Seat Tube - CC
450
470
490
510
530
550
(C) Virtual TT
523.9
537.1
550.9
565.6
577.7
587.7
(D) Front Centre
583
592
591
599.9
608
618.2
(E) Wheelbase
983
992
991
1000.4
1008.5
1018.8
(F) Headtube
104.5
127.3
145
162.7
179.5
196.1
(G) Fork Rake
51
51
45
45
45
45
(H) Fork Length
370
370
370
370
370
370
(I) HT Angle
70.9
71.6
72.4
72.9
73.2
73.5
(J) ST Angle
73.6
73.5
73.4
73.3
73.2
73.5
(K) Chainstay
410
410
410
410
410
410
(L) BB Drop
70
69
69
68
68
68
Crank length
165
170
172.5
172.5
175
175
Max Tyre Size
700 x 30c
700 x 30c
700 x 30c
700 x 30c
700 x 30c
700 x 30c
(M) Stack 
502.9
524
547
565
582
599
(N) Reach
375.9
381
387
396
402
410
Stand Over Height
754.39
775.37
796.27
815.7
833.64
852.12
Stem length
90
100
110
110
120
120
Handlebar Width
380
400
420
420
440
440
Height 
160 - 165
165 - 170
170 - 177
176 - 186
186 - 193
193 - 200
Inside Leg
68 - 74
74 - 76
76 - 79
79 - 84
84 - 87
87 - 93
Bottom Bracket
BB386 EVO
46mm ID x 86mm W
BB386 EVO
46mm ID x 86mm W
BB386 EVO
46mm ID x 86mm W
BB386 EVO
46mm ID x 86mm W
BB386 EVO
46mm ID x 86mm W
BB386 EVO
46mm ID x 86mm W
Headset
Tapered 1 1/8" > 1 1/2"
Upper: IS41.8/28.6
Lower: IS52/40
Tapered 1 1/8" > 1 1/2"
Upper: IS41.8/28.6
Lower: IS52/40
Tapered 1 1/8" > 1 1/2"
Upper: IS41.8/28.6
Lower: IS52/40
Tapered 1 1/8" > 1 1/2"
Upper: IS41.8/28.6
Lower: IS52/40
Tapered 1 1/8" > 1 1/2"
Upper: IS41.8/28.6
Lower: IS52/40
Tapered 1 1/8" > 1 1/2"
Upper: IS41.8/28.6
Lower: IS52/40
Seat Post
27.2 x 300mm
27.2 x 300mm
27.2 x 350mm
27.2 x 350mm
27.2 x 400mm
27.2 x 400mm
Help
What are the Torque settings on the Vitesse EVO?
You can find the tech documents for our Vitus Vitesse EVO here: Vitesse EVO Tech Documents
What gear hanger do I need for my Vitesse EVO?
You require Vitus Hanger #22 you can buy this from one of our retail partners below;
Wiggle: Vitus Hanger 22
Chain Reaction Cycles: Vitus Hanger 22
Where can I buy Vitus Bikes?
You can buy Vitus bikes directly through our exclusive retailers Wiggle and Chain Reaction Cycles
Do your bikes come with Warranty?
We offer a 5-year warranty on all our frames. On top of that we also offer an extended 2-year warranty on all components excluding wear and tear items such as bearings, brake pads, chains & cassettes etc. Our Warranty policy applies to the original owner and processed by our exclusive retail partners.To see their warranty process check: CRC & Wiggle