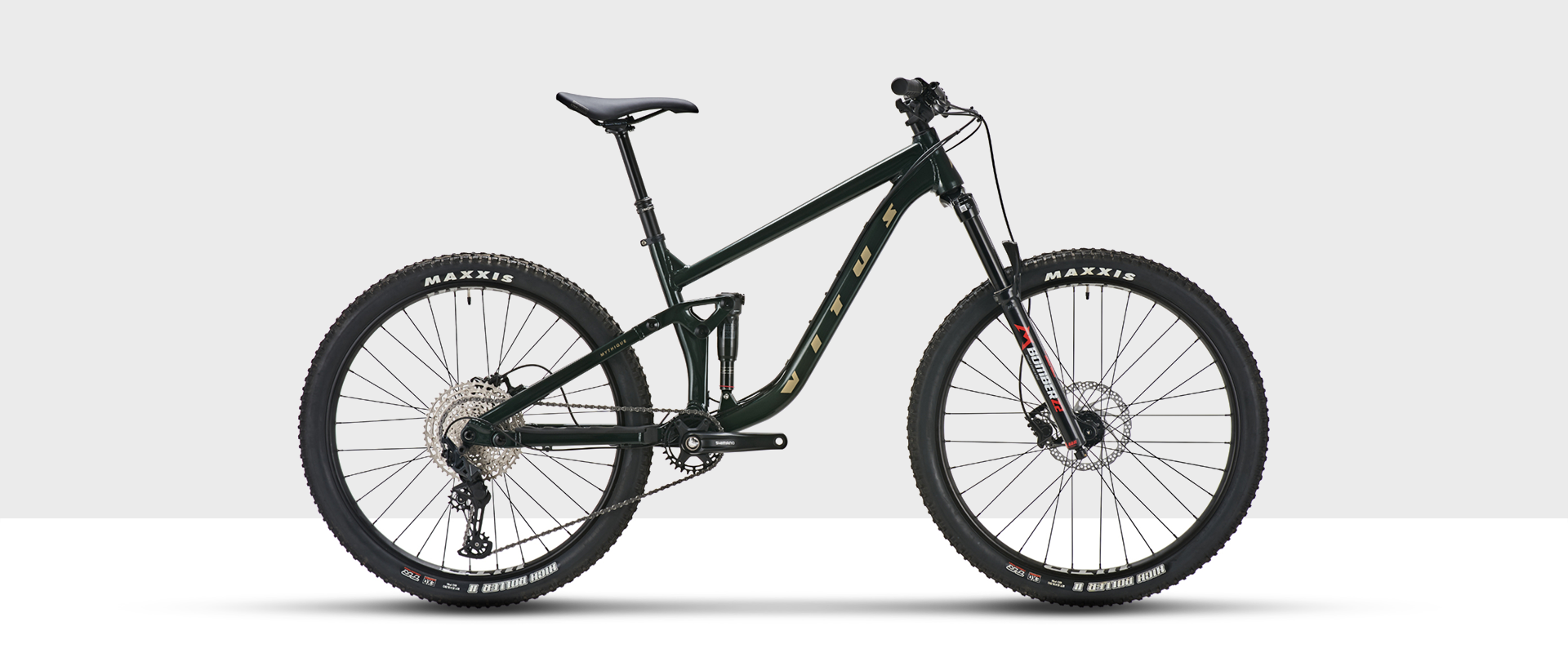 Building on its award-winning heritage, the new generation of Mythique is a performance focused aluminium trail bike. It's an ideal all-rounder, with each model boasting carefully selected components that blend perfectly for maximum trail-blurring fun.
We've all got our favourite trail. The go-to. It might not be the most technical, it might not have the steepest turns or descents that induce a cold sweat, but that flow is so good to ride. You can visualise every inch of it. Every rise, fall and bend. Dialled. The Vitus Mythique 27 VRX Mountain Bike delivers that same feeling of ease, building your confidence with its proven capability and control so every trail feels like a new favourite. The Mythique cares not for your riding style or where you ride - it simply brings the fun. The downside? How long you'll be waiting for your mates to catch up.
The Mythique isn't necessarily about the bravado of getting as rowdy and hectic as possible, although point it at something more aggressive and it'll gladly comply. This is a trail bike that's agile and playful without getting out of hand. Rein it in with ease or cut loose and unleash your full trail riding potential. This is consistent performance along the whole track from a bike that calmly stitches together the technical sections with balance and poise. The suspension design is a long-proven platform that better prevents pedal bounce when you're climbing whilst also maintaining predictability under braking. Dressed in reliable Shimano SLX components that include an 12-speed drivetrain, this bike is ready to ride, straight out the box.
Not to be underestimated, the Mythique has the personality of a workhorse - trustworthy and controlled - with a trail-taming capability that rolls well above its price point. It's a bike that inspires confidence without defining your style - the flair comes from you, the bike just helps you ride that perfect line.
Marzocchi Bomber Z2 Rail

 

fork

 

with 140mm travel and RockShox Deluxe Select R rear shock

Reliable blend of Shimano 1x12 SLX and Deore groupset - 30T chainset and 10-51T cassette

Shimano MT501 hydraulic disc brakes

27.5 " WTB i30 rims, pre-installed with tubeless tape 

Maxxis High Roller II tyres

Brand-X Ascend Dropper
Completely Re-Designed & Re-Developed from the Ground Up
A performance orientated aluminium full suspension trail bike
Frame Material
6061-T6 Aluminium
Suspension Travel (MTB Only)
140mm Front, 140mm Rear
Wheel Size
27.5"
Available Size
S, M, L, XL
Colour
Racing Green
Weight:
14.5kg (Medium - Tubeless Set-Up)
£2,099.99
Shop with Preferred Partner
Vitus Mythique VRX Review

The revamped Vitus Mythique delivers everything you need from a modern mountain bike, without the eye-watering price tag.

Read more...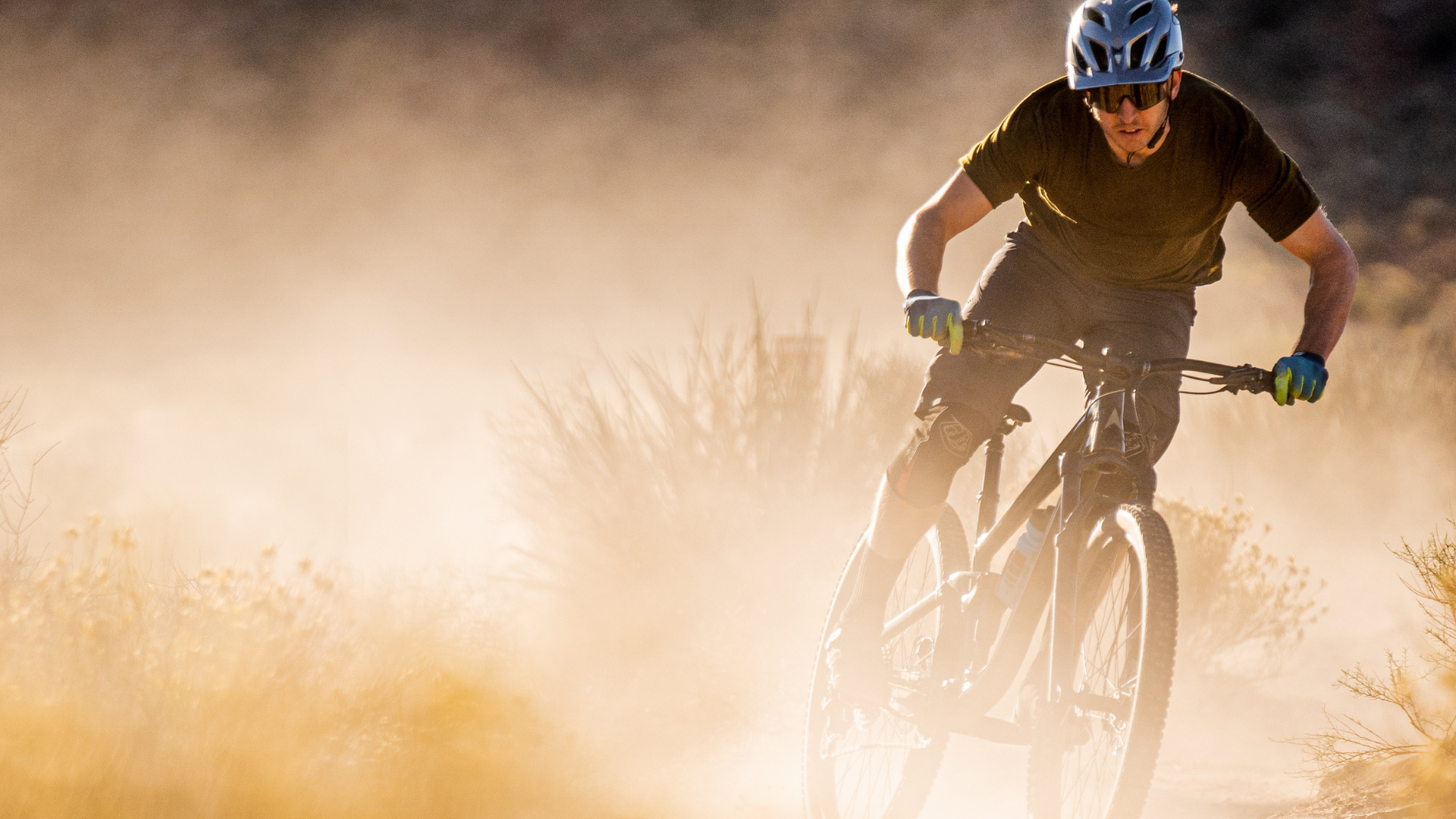 Specifications
FRAMEMythique 6061-T6 Alloy

Redesigned set tube for max. dropper insert, bridgeless seat stays for max. mud clearance, double row bearing in rear triangle for stability and reliability, post disc brake mounts, BSA threaded BB, external cable routing, Boost hub spacing – 148mm x 12mm thru axle, UDH hanger, rubber frame protection, Max Rec. Chainring: 34T, Max Rec. Tyre: 27.2" x 2.6", Max Rec. Rotor: 200mm

REAR HUB Vitus KT H5ER Microspline

32H, 6 Bolt Disc Fitment, 148mm x 12mm

FORKSMarzocchi Bomber Z2 27.5"

140mm travel, Rail damper, Float air spring 34mm stanchions, tapered alloy steerer, 110mm x 15mm thru axle, 44mm offset

WHEELSET

WTB ST i30 Rims on Vitus KT Hubs

27.5", 6 Bolt, HG Driver, 110x15mm front, 148x12mm rear

SHOCKRockShox Deluxe Select R

185mm x 55mm, trunnion

FRONT TYREMaxxis High Roller II

27.5" x 2.3", EXO Casing, Tubeless Ready

CHAINSETShimano Deore M510 or Race Face Ride

12 Speed, 30T Narrow Wide Chainring, 170mm Crank Length

REAR TYREMaxxis High Roller II

27.5" x 2.3", EXO Casing, Tubeless Ready

BOTTOM BRACKETShimano or Nukeproof

BSA Threaded BB

BRAKESShimano MT501 or SRAM DB8

Post Mount, Shimano: Two Piston Caliper, SRAM: Four Piston Caliper

FRONT DERAILLEURN/A

N/A

BRAKE ROTORSShimano RT56 or SRAM CenterLine

180mm Front & Rear, 6 Bolt Hub Fitment

REAR DERAILLEURShimano SLX M7100

12 Speed, Shadow Plus, Long Cage

HANDLEBARS

Nukeproof Neutron V2 Riser

6061 Alloy, 25mm Rise, 9° Back Sweep, 31.8mm Clamp Diameter, S & M: 760mm Wide, L & XL:780mm Wide

SHIFTERS

Shimano Deore M6100

12 Speed, Rapidfire Plus

STEM

Nukeproof Neutron

6061 Alloy, 45mm Reach, 0° Rise, 31.8mm Handlebar Clamp Diameter

CASSETTEShimano Deore M6100 or Sunrace CSMZ800

12 Speed, Shimano: 10-51T Range, SunRace: 11-51T

HEADSET

Acros AZX-212-CO R5

ZS44/28.6 upper & ZS56/40 lower to suit 1-1/8" upper tapered to 1.5" lower headtube

CHAIN

Shimano Deore M6100

12 Speed, 116 Links

GRIPS

Vitus Lock On

Black

FRONT RIM

WTB ST Light i30 TCS 2.0

27.5", 32H, Presta Valve, Tubeless Ready Rim Tape Installed

SADDLE

Nukeproof Neutron

Black, Steel Rails

REAR RIM

WTB ST Light i30 TCS 2.0

27.5", 32H, Presta Valve, Tubeless Ready Rim Tape Installed

SEATPOST

Brand-X Ascend Dropper

Remote lever, 31.6mm Diameter, S: 100mm drop, M: 125mm drop, L & XL: 150mm drop

FRONT HUB

Vitus KT DHF112

32H, 6 Bolt Disc Fitment, 110mm x 15mm

SEATCLAMP

Vitus

34.9mm Diameter
Updated Geometry

Side-by-side the changes are clear to see. Upfront, the head tube is 0.5° slacker (66° to 65.5° with a 140mm fork), promoting more control across a wider variety of terrain, in particular when things become steeper and more technical. This is balanced out with a revised 1.5° steeper effective seat tube angle (76° to 77.5° on a 29" with 140mm fork), reflecting the change in reach and positioning the rider further over the bottom bracket for more efficient climbing.

Reach

We don't believe in reserving features for top-end models. In particular, when it comes to geometry – if it can benefit everyone's riding, then it's worth doing at every price point. Once more, we looked closely at the Sommet and Escarpe and tweaked the geometry accordingly so that the Mythique is much more responsive on the climbs. No more will you feel slouched and sluggish over the rear of the bike.

Slam The Dropper

You asked. We listened. The new Mythique can now accommodate a full dropper insertion across all sizes, so you can maximise movement and get the weight right back when the trail falls away.

Keeping it Simple

Nothing sucks the fun out of riding quite like mountain bike industry standards and jargon. The Mythique aims to keep it real. To focus on what's easiest for the customer when it comes to maintenance and upkeep. To prioritise using parts, bearings and hardware that are durable and widely available. Parts that have been thoroughly tested on the Mythique in all conditions.
Geometry & Sizing
Frame Size
S
M
L
XL
Rec Rider Height (Imperial)
5' 2" - 5' 6"
5' 6" - 5' 10"
5' 10" - 6' 2"
6' 2" - 6' 7"
Rec Rider Height (Metric)
158 - 170cm
170 - 178cm
178 - 190cm
190 - 201cm
Rec Inside Leg (Imperial)
26.5" - 30"
30" - 32"
32" - 34"
34" - 37"
Rec Inside Leg (Metric)
71 - 76cm
76 - 81cm
81 - 86cm
86 - 94cm
(A)Seattube Length
380mm
410mm
440mm
480mm
(B) Effective Top Tube Length
568mm
595mm
624mm
654mm
(C) Reach*
S: 440mm | L: 435mm
S: 465mm | L: 460mm
S: 492mm | L: 487mm
S: 519mm | L: 515mm
(D) Stack*
S: 585mm | L: 588mm
S: 594mm | L: 597mm
S: 607mm | L: 606mm
S: 612mm | L: 615mm
(E) Chainstay Length
435mm
435mm
435mm
435mm
(F) Headtube Length
110mm
120mm
130mm
140mm
(G) Headtube Angle*
S: 66° | L: 65.5°
S: 66° | L: 65.5°
S: 66° | L: 65.5°
S: 66° | L: 65.5°
Effective Seat Tube Angle*
S: 77.7° | L: 77.3°
S: 77.7° | L: 77.3°
S: 77.7° | L: 77.3°
S: 77.7° | L: 77.3°
(H) Seat Tube Angle*
S: 73° | L: 72.5°
S: 73° | L: 72.5°
S: 73° | L: 72.5°
S: 73° | L: 72.5°
Bottom Bracket Drop*
S: 25mm | L: 22mm
S: 25mm | L: 22mm
S: 25mm | L: 22mm
S: 25mm | L: 22mm
Wheelbase*
S: 1174mm | L: 1178mm
S: 1203mm | L: 1207mm
S: 1234mm | L: 1238mm
S: 1266mm | L: 1270mm
Seatpost Diameter
31.6 mm (220mm max. insert)
31.6 mm (250mm max. insert)
31.6 mm (250mm max. insert)
31.6 mm (250mm max. insert)
Bottom Bracket
73mm BSA
73mm BSA
73mm BSA
73mm BSA
Headset
ZS44/28.6 - ZS56/40
ZS44/28.6 - ZS56/40
ZS44/28.6 - ZS56/40
ZS44/28.6 - ZS56/40
Chain Device
ISCG 05
ISCG 05
ISCG 05
ISCG 05
Rear Axle
148mm x 12mm UDH, 181mm length, M12xP1.0 Thread Pitch
148mm x 12mm UDH, 181mm length, M12xP1.0 Thread Pitch
148mm x 12mm UDH, 181mm length, M12xP1.0 Thread Pitch
148mm x 12mm UDH, 181mm length, M12xP1.0 Thread Pitch
Max Tyre Size
27.5" x 2.6"
27.5" x 2.6"
27.5" x 2.6"
27.5" x 2.6"
Shock Size*
S: 185mm x 50mm (130mm travel) | L: 185mm x 55mm (141mm travel)
S: 185mm x 50mm (130mm travel) | L: 185mm x 55mm (141mm travel)
S: 185mm x 50mm (130mm travel) | L: 185mm x 55mm (141mm travel)
S: 185mm x 50mm (130mm travel) | L: 185mm x 55mm (141mm travel)
Based on Axle to Crown*
S: 520mm | L: 530mm (44mm offset)
S: 520mm | L: 530mm (44mm offset)
S: 520mm | L: 530mm (44mm offset)
S: 520mm | L: 530mm (44mm offset)
* Alternative Geometries - "S" = Shorter 130mm travel models (VR); "L" = Longer 140mm travel models (VRS & VRX)
Help
Where can I buy Vitus Bikes?
You can buy Vitus bikes directly through our exclusive retailers Wiggle and Chain Reaction Cycles
Do your bikes come with Warranty?
We offer a 5-year warranty on all our frames. On top of that we also offer an extended 2-year warranty on all components excluding wear and tear items such as bearings, brake pads, chains & cassettes etc. Our Warranty policy applies to the original owner and processed by our exclusive retail partners.To see their warranty process check: CRC & Wiggle