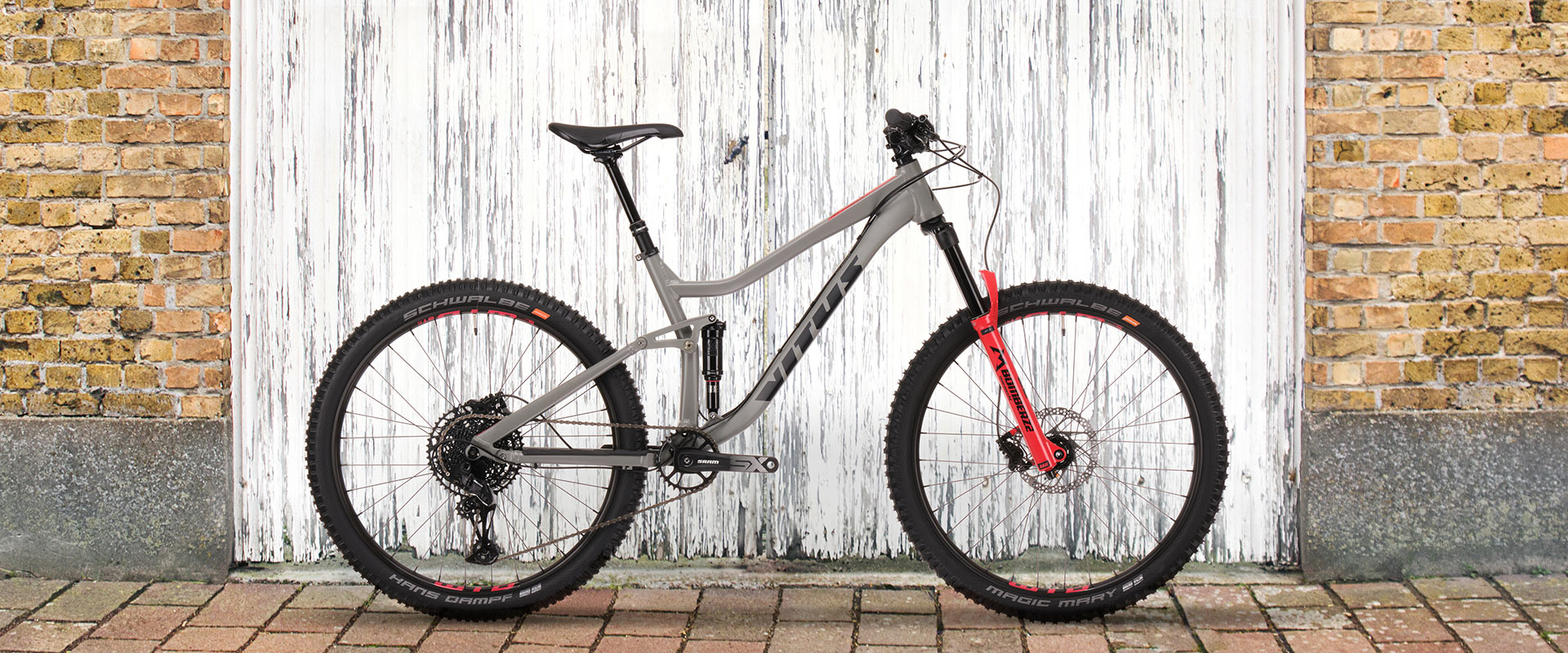 Say hello to the Mythique, our one stop shop does it all trail bike.
The Mythique was developed around a proven horst-link 4-bar suspension design, allowing us to develop an accessible, capable and performance driven trail bike. Pairing modern geometry with dependable components and a setup that gives you the confidence to progress your riding to the next level. The Mythique is a bike capable of descending as well as it climbs. Watch the smile on your face widen as the Mythique encourages you to get out on the trails and shred section by section. #ridemore
The Mythique 27 VRX is ready to rock out of the box with a 140mm full suspension alloy frame paired with trail smashing Marzocchi Bomber Z2 140mm forks and Rockshox Monarch R rear shock. The SRAM SX Eagle drivetrain is paired with reliable Shimano MT-501 brakes to give you the confidence to develop your skills. Rolling on WTB tubeless ready rims, Schwalbe tyres and finished off with the Brand-X Ascend dropper post, the Mythique 27 VRX ready for its next trail ride shred.
*The Mythique frame now has an updated top tube, this was a rolling mid season change that was made to align the asthetic design with future frame projects we are working on. The geometry and all other aspects of the Mythique remain the same.
Mythique 140mm 6061 Alloy Boost frame
Marzocchi Bomber Z2 140mm forks
Rockshox Monarch R rear shock
Sram SX Eagle 12 speed drivetrain
Shimano MT-501 brakes
Schwalbe tubeless ready Magic Mary / Hans Dampf tyres
Features:
Accessible Full Suspension Trail Bike
Modern Geometry paired with Proven 4-Bar Suspension Design
Frame Material
6061-T6 Double Butted Aluminium
Wheel Size
27.5"
Suspension Travel
140mm Front, 140mm Rear
Weight
Medium: 14.6kg
£1,599.99
Shop with Preferred Partner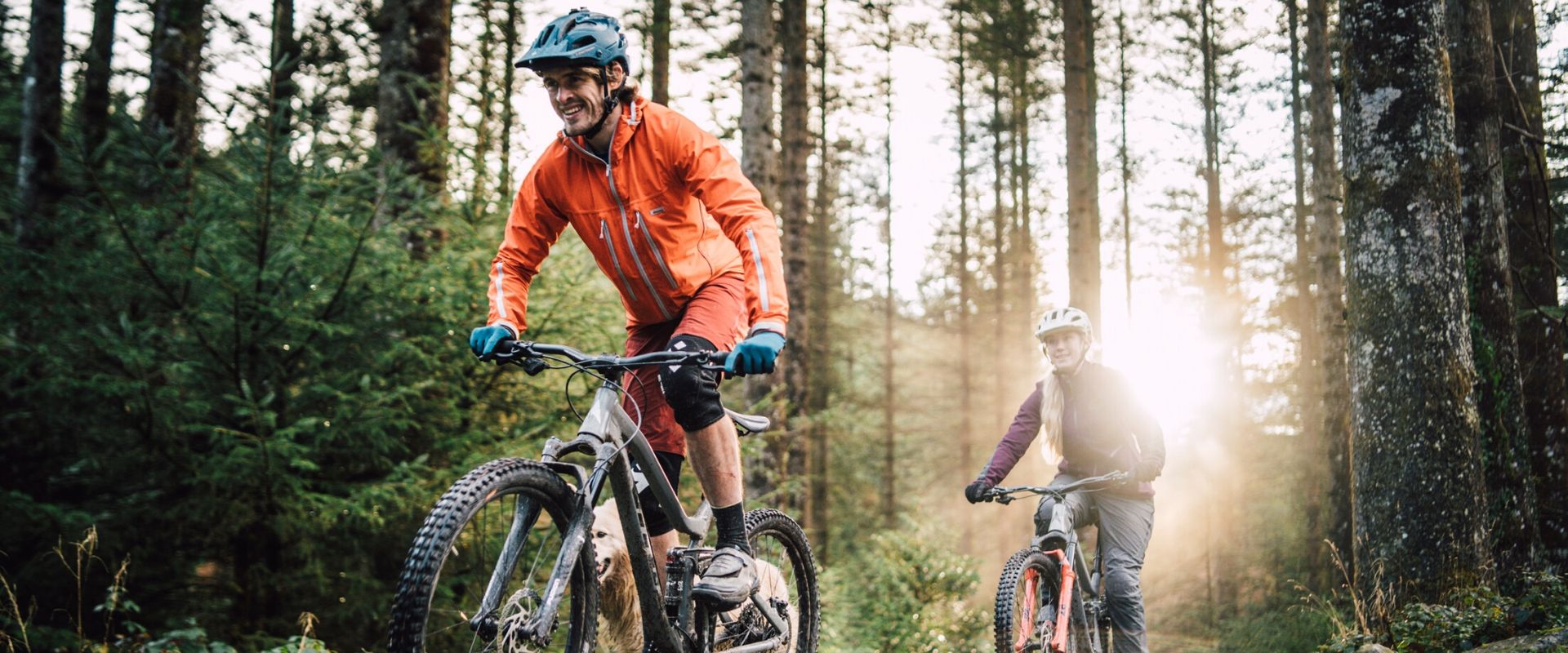 Specifications
FRAMEMythique 27.5" 140mm travel full suspension frame

"Horst Link suspension system, Boost axle spacing, 6061 alloy "

REAR HUB VITUS M5ER

Boost 12x148mm, DOUBLE SEALED BEARINGS, 32H, Shimano 11spd Driver Body, 6 BOLT

FORKSMarzocchi Bomber Z2 27.5" 140mm

Boost 15mm x 110mm, Kabolt axle, 44mm offset, tapered, RAIL damper

SPOKES

14G STAINLESS DB BLACK

BLACK BRASS NIPPLES

SHOCKROCKSHOX Monarch R

200mm x 57mm, SOLOAIR, HIGH VOL EYELET, ML TUNE

FRONT TYRESCHWALBE MAGIC MARY Evo

27.5" x 2.35", SnakeSkin, TLE, ADDIX Soft

CHAINSETSRAM SX Eagle

32T, 170mm, GXP 73mm, 53mm BOOST chainline, Powerspline

REAR TYRESCHWALBE HANS DAMPF Evo

27.5" x 2.35", SnakeSkin, TLE, ADDIX Soft

BOTTOM BRACKETSRAM SX Eagle

Theaded 73mm BSA , Powerspline

FRONT BRAKESHIMANO MT501

RESIN PAD(W/O FIN), SM-MA-F180P/P2 adaptor, 180mm 6-BOLT Rotor SM-RT56

FRONT DERAILLEURN/A

N/A

REAR BRAKESHIMANO MT501

RESIN PAD(W/O FIN), SM-MA-F180P/P2 adaptor, 180mm 6-BOLT Rotor SM-RT56

REAR DERAILLEURSRAM SX Eagle

N/A

HANDLEBARS

Nukeproof Neutron

25mm Rise, Width - S760mm, M780mm, L800mm, XL800mm, 31.8mm bar diameter

SHIFTERS

SRAM SX Eagle

N/A

STEM

Nukeproof Neutron

45mm, 31.8mm bar diameter, 0deg rise

CASSETTESRAM SX Eagle 10-50T

N/A

HEADSET

ACROS

ZS 44mm/56mm

CHAIN

KMC Z9 EPT Anti Rust

N/A

GRIPS

VITUS

Tapered, single alloy clamp, sticky rubber

FRONT RIM

WTB STlight i30

TCS 2.0, 27.5", 30mm inner diameter, 32 hole, Sleeved Joint

SADDLE

Nukeproof Neutron

N/A

REAR RIM

WTB STlight i30

TCS 2.0, 27.5", 30mm inner diameter, 32 hole, Sleeved Joint

SEATPOST

Brand X Ascend

31.6mm, Left hand remote lever, S100mm, M125mm, L&XL150mm

FRONT HUB

VITUS DHF112

Boost 15x110mm, DOUBLE SEALED BEARINGS, 32H, 6 BOLT

SEATCLAMP

VITUS

34.9mm seat clap
Geometry & Sizing
Frame Size
S
M
L
XL
Rec Rider Height (Imperial)
5' 2" - 5' 6"
5' 6" - 5' 10"
5' 10" - 6' 2"
6' 2" - 6' 7"
Rec Rider Height (Metric)
160 - 170cm
170 - 178cm
178 - 190cm
190 - 201cm
Rec Inside Leg (Imperial)
26.5" - 30"
30" - 32"
32" - 34"
34" - 37"
Rec Inside Leg (Metric)
71cm - 76cm
76cm - 81cm
81cm - 86cm
86 - 94cm
(A)Seattube Length
395mm
433mm
470mm
510mm
(C) Effective Top Tube Length*
S: 574.77mm; L: 576.78mm
S: 596.24mm; L: 598.29mm
S: 617.71mm; L: 619.79mm
S: 644.18mm; L: 646.30mm
(M) Reach*
S: 438.63mm; L: 433.65mm
S: 456.39mm; L: 451.43mm
S: 474.16mm; L: 469.21mm
S: 496.92mm; L: 492.00mm
(B) Stack*
S: 581.90mm; L: 585.62mm
S: 591.07mm; L: 594.87mm
S: 600.23mm; L: 604.11mm
S: 609.39mm; L: 613.37mm
(K) Chainstay Length
435mm
435mm
435mm
435mm
(F) Headtube Length
110mm
120mm
130mm
140mm
(I) Headtube Angle*
S: 66.54° L: 66.05°
S: 66.54° L: 66.06°
S: 66.54° L: 66.07°
S: 66.54° L: 66.08°
Effective Seat Tube Angle*
S: 76.82° L: 76.36°
S: 76.69° L: 76.13°
S: 76.55° L: 76°
S: 76.42° L: 75.88°
(J) Seat Tube Angle*
S: 68.04° L: 67.55°
S: 68.04° L: 67.56°
S: 68.04° L: 67.57°
S: 68.04° L: 67.58°
Bottom Bracket Drop*
S: 22.3mm; L: 18.59mm
S: 22.29mm; L: 18.65mm
S: 22.29mm; L: 18.71mm
S: 22.28mm; L: 18.78mm
(E)Wheelbase*
S: 1166.07mm; L: 1168.26mm
S: 1187.83mm; L: 1190.01mm
S: 1209.58mm; L: 1211.77mm
S: 1236.33mm; L: 1238.52mm
Seatpost Diameter
31.6mm
31.6mm
31.6mm
31.6mm
Bottom Bracket
73mm BSA
73mm BSA
73mm BSA
73mm BSA
Headset
ZS44/28.6 - ZS56/40
ZS44/28.6 - ZS56/40
ZS44/28.6 - ZS56/40
ZS44/28.6 - ZS56/40
Chain Device
None
None
None
ISCG 05
Rear Axle
12mm x 148mm E Thru
12mm x 148mm E Thru
12mm x 148mm E Thru
12mm x 148mm E Thru
Tyre Size
27.5x2.6
27.5x2.6
27.5x2.6
27.5x2.6
Shock Size*
S: 200x51mm; L: 200x57mm
S: 200x51mm; L: 200x57mm
S: 200x51mm; L: 200x57mm
S: 200x51mm; L: 200x57mm
Based on Axle to Crown*
S: 520mm / 46mm; L: 530mm / 44mm
S: 520mm / 46mm; L: 530mm / 44mm
S: 520mm / 46mm; L: 530mm / 44mm
S: 520mm / 46mm; L: 530mm / 44mm
* Alternative Geometries - "S": Standard 130mm travel models (VR/VRW); "L": Longer 140mm travel models (VRS/VRX)
Help
Where can I buy Vitus Bikes?
You can buy Vitus bikes directly through our exclusive retailers Wiggle and Chain Reaction Cycles
Do your bikes come with Warranty?
We offer a 5-year warranty on all our frames. On top of that we also offer an extended 2-year warranty on all components excluding wear and tear items such as bearings, brake pads, chains & cassettes etc. Our Warranty policy applies to the original owner and processed by our exclusive retail partners.To see their warranty process check: CRC & Wiggle