The latest Vitus ZX-1 has been remastered, reimagined and reengineered. Enter, the EVO. Lighter, stiffer and faster. Stripped right back to the drawing board for a ground-up overhaul.
Yes, we've done the testing and know that the EVO exhibits up to 45% less drag than the previous model. But that means nothing until you unleash it outside and feel it for yourself. In the world of aero bikes, amongst all the jargon and data, it's easy to lose sight of what really matters. That to feel fast is to be fast, and you can't feel fast in a wind tunnel. The pleasure of speed only exists in the real world. Out there on the road. The sensation of putting power through your pedals and feeling the bike surge underneath you. And the faster you go, the easier it becomes. That's where the ZX-1 EVO excels. That's the bike working with you as the road snakes and the wind changes. That's aero.
The ZX-1 EVO doesn't neglect everything for the sake of speed, since an uncomfortable rider cannot be fast and efficient. At least, not for long. Thanks to the one-piece carbon monocoque frame there are no points of weakness, no joints, so it is specifically engineered to be stiff where required and deliver comfort elsewhere, reducing harshness from the road for a more soothing ride feel. Reassuringly, there are no compromises on performance with the build. You're getting SRAM's latest wireless RIVAL AXS groupset, Prime carbon wheels and integrated carbon stem and handlebar to keep the front end sleek so nothing is left out in the wind. The result? A bike with a stunningly clean aesthetic that carves through the air with outstanding efficiency.
The performance geometry slots the rider into a naturally aerodynamic position, so whether racing flat-out, sprinting for road signs or charging on the front of the chaingang, the EVO gathers momentum quickly and holds speed with ease. We've made this bike fast. We know it rides fast. The rest is up to you.
Race-Fit geometry
SL UD Carbon aero frame and fork with integrated seat clamp
Full internal cable routing
SRAM Rival AXS HRD groupset
Prime Attaquer V2 Disc Road wheelset
Prime Primavera Carbon aero handlebar
Features:
EVO Carbon Platform
Aero Race Performance
Frame Material
SL UD Carbon
Wheel Size
700c
Available Size
XS, S, M, L, XL, XXL
Colour
Silver
Weight:
Medium: 8.1kg
£3,699.99
Shop with Preferred Partner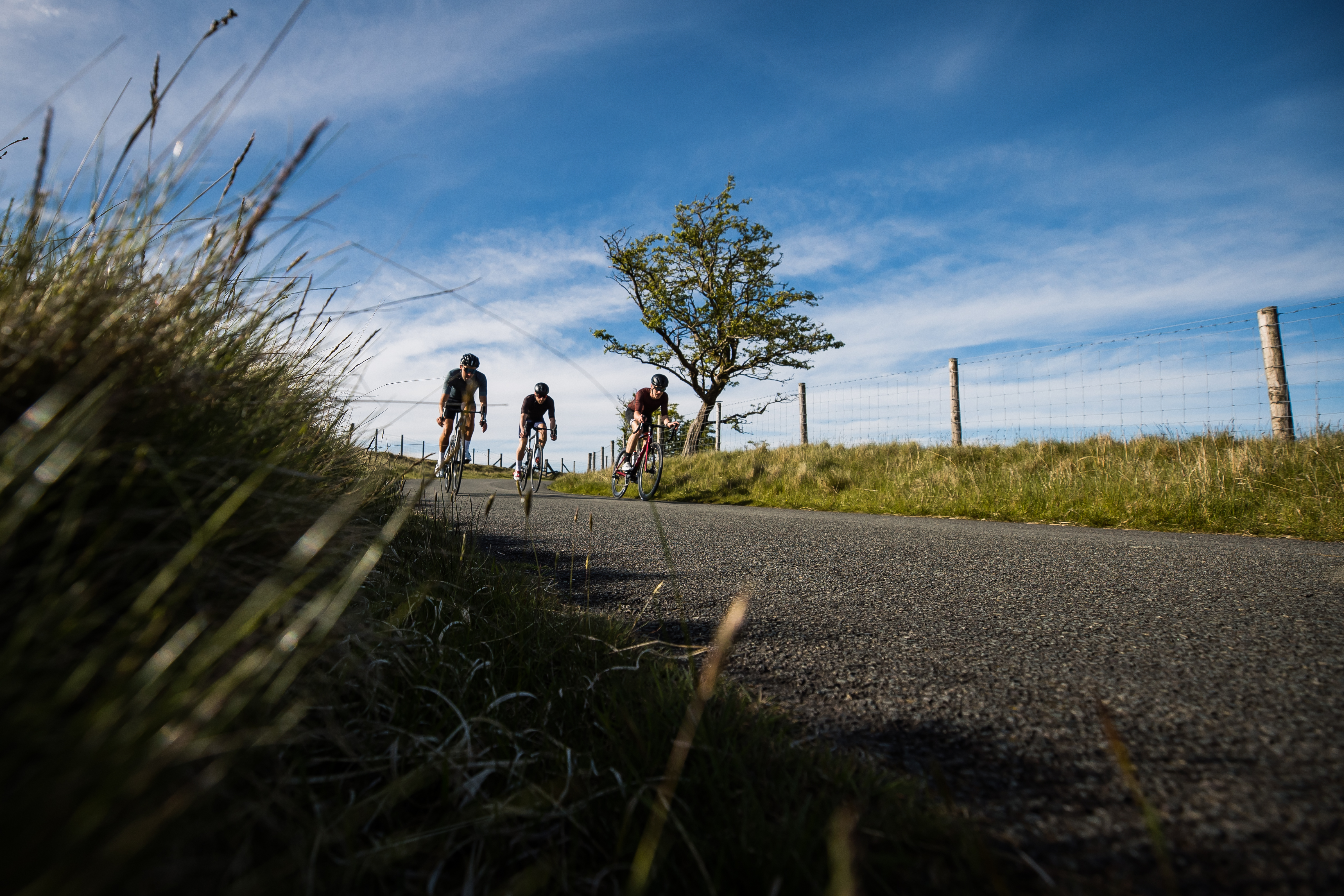 Specifications
FRAMEZX-1 EVO Carbon

SL UD Carbon, UCI Approved, Internal Cable Routing, 12mm x 142mm Hub Spacing, Flat Mount, Axle Specifcations: 172mm Length, 14mm Thread Length, M12xP1.5 Thread Pitch

REAR HUB Prime SR1

142 x 12mm, Centre Lock, 36T Ratchet System, XD-R Freehub

FORKSZX-1 EVO Carbon

SL UD Carbon, UCI Approved, Tapered Steerer, 100 x 12mm, Flat Mount, Size Specific Offset

WHEELSET

Prime Attaquer V2 Aluminium Clincher Disc Wheelset

700c, Tubeless Ready, 100 x 12mm Front, 142 x 12mm Rear, Centre Lock, XD-R Freehub

CHAINSETSRAM Rival D1 DUB

48/35T, XS:165mm S:170mm M:172.5mm L:172.5mm XL:175mm XXL: 175mm

FRONT TYREMY23

700c x 25c, Tubeless Ready

BOTTOM BRACKETSRAM DUB BB386

DUB for BB386EVO

REAR TYREMichelin Power Cup Classic TS TLR

700c x 25c, Tubeless Ready

FRONT DERAILLEURSRAM Rival AXS

2 x 12 Speed, Braze-On

BRAKESSRAM Rival AXS D1 Disc

Hydraulic Disc, Flat Mount

REAR DERAILLEURSRAM Rival AXS

12 Speed, Short Cage

BRAKE ROTORSSRAM Paceline

Front:160mm, Rear:140mm

FRONT SHIFTERSRAM Rival AXS

2 x 12 Speed

HANDLEBARS

Prime Primavera Carbon Aero

UD Carbon, Rise: 78mm, XS:400mm S:400mm M:420mm L:420mm XL:420mm XXL:420mm

REAR SHIFTER

SRAM Rival AXS

12 Speed

STEM

FSA ST-OS-185 Integrated

Bar Bore 31.8mm, - 6 degrees, XS:100mm, S:100mm, M:110mm, L:110mm, XL:120mm, XXL:120mm

CASSETTESRAM XG 1290 D1

10-36T, 12 Speed

HEADSET

FSA/Vitus ACR

Sealed Bearings, 1.5" 36x45 degrees (FSA No.55ACR), Vitus/FSA Headset Cover

CHAIN

SRAM Rival D1

12-Speed

GRIPS

Vitus Super Grip

Anti Slip

FRONT RIM

Prime Attaquer V2

Aluminium, Tubeless Ready, Disc Brake, Rim Depth: 30mm, Inner Rim Width: 19mm, Outer Rim Width: 22mm

SADDLE

Vitus Race Performance

CRN-Ti Rail, Pressure Relief Channel

REAR RIM

Prime Attaquer V2

Aluminium, Tubeless Ready, Disc Brake, Rim Depth: 30mm, Inner Rim Width: 19mm, Outer Rim Width: 22mm

SEATPOST

ZX-1 EVO Aero

XS/S: 300mm M/L/XL/XXL: 350mm, +20mm/-2mm Offset

FRONT HUB

Prime SR1

100 x 12mm, Centre Lock

SEATCLAMP

ZX-1 EVO Integrated

Internal Wedge System
Full Monocoque Frame

The All New ZX-1 EVO features a true monocoque frame, manufactured as a single piece. Comfort and performance go hand-in-hand, while eliminating any joins creates greater strength and result in a light weight, eye catching frame. Less aerodynamic drag, for ultimate speed when out on the open road.

Dual Fork Design

We have introduced frame size specific fork geometry maintaining fit and handling characteristics across the full size curve. By adjusting the rake on the smaller sizes this ensures handling isn't compromised, whilst at the same time giving riders the same toe overlap versus the bigger frame sizes.

Tyre clearance

Performance shouldn't come about at the expense of practicality, that's why the ZX-1 EVO brings 700c x 30 tyre clearance across all sizes. For added comfort and control, without compromising on speed.
Geometry & Sizing
| | | | | | | |
| --- | --- | --- | --- | --- | --- | --- |
| Model / Size | XS | S | M | L | XL | XXL |
| (A) Seat Tube - CT | 470 | 490 | 510 | 530 | 550 | 570 |
| (B) Seat Tube - CC | 450 | 470 | 490 | 510 | 530 | 550 |
| (C) Virtual TT | 520 | 537 | 551 | 566 | 581 | 592 |
| (D) Front Centre | 579 | 590 | 591 | 599.9 | 611 | 623 |
| (E) Wheelbase | 979 | 990 | 991 | 1000.4 | 1012 | 1024 |
| (F) Headtube | 89.5 | 112.3 | 129.6 | 147.8 | 164.5 | 181 |
| (G) Fork Rake | 51 | 51 | 45 | 45 | 45 | 45 |
| (H) Fork Length | 370 | 370 | 370 | 370 | 370 | 370 |
| (I) HT Angle | 70.9 | 71.6 | 72.4 | 72.9 | 73.2 | 73.5 |
| (J) ST Angle | 73.6 | 73.5 | 73.4 | 73.3 | 73.2 | 73.5 |
| (K) Chainstay | 410 | 410 | 410 | 410 | 410 | 410 |
| (L) BB Drop | 70 | 69 | 69 | 68 | 68 | 68 |
| Crank length | N/A | N/A | N/A | N/A | N/A | N/A |
| Max Tyre Size | 700 x 30c | 700 x 30c | 700 x 30c | 700 x 30c | 700 x 30c | 700 x 30c |
| (M) Stack  | 500 | 522 | 543 | 562 | 578 | 595 |
| (N) Reach | 372 | 381 | 387 | 396 | 406 | 416 |
| Stand Over Height | 752.95 | 774.37 | 794.28 | 815.7 | 831.65 | 850.13 |
| Stem length | N/A | N/A | N/A | N/A | N/A | N/A |
| Handlebar Width | N/A | N/A | N/A | N/A | N/A | N/A |
| Height  | 160 - 165 | 165 - 170 | 170 - 177 | 176 - 186 | 186 - 193 | 193 - 200 |
| Inside Leg | 68 - 74 | 74 - 76 | 76 - 79 | 79 - 84 | 84 - 87 | 87 - 93 |
| Bottom Bracket | N/A | N/A | N/A | N/A | N/A | N/A |
| Headset | N/A | N/A | N/A | N/A | N/A | N/A |
| Seat Post | N/A | N/A | N/A | N/A | N/A | N/A |
Help
Where can I buy Vitus Bikes?
You can buy Vitus bikes directly through our exclusive retailers Wiggle and Chain Reaction Cycles
Do your bikes come with Warranty?
We offer a 5-year warranty on all our frames. On top of that we also offer an extended 2-year warranty on all components excluding wear and tear items such as bearings, brake pads, chains & cassettes etc. Our Warranty policy applies to the original owner and processed by our exclusive retail partners.To see their warranty process check: CRC & Wiggle