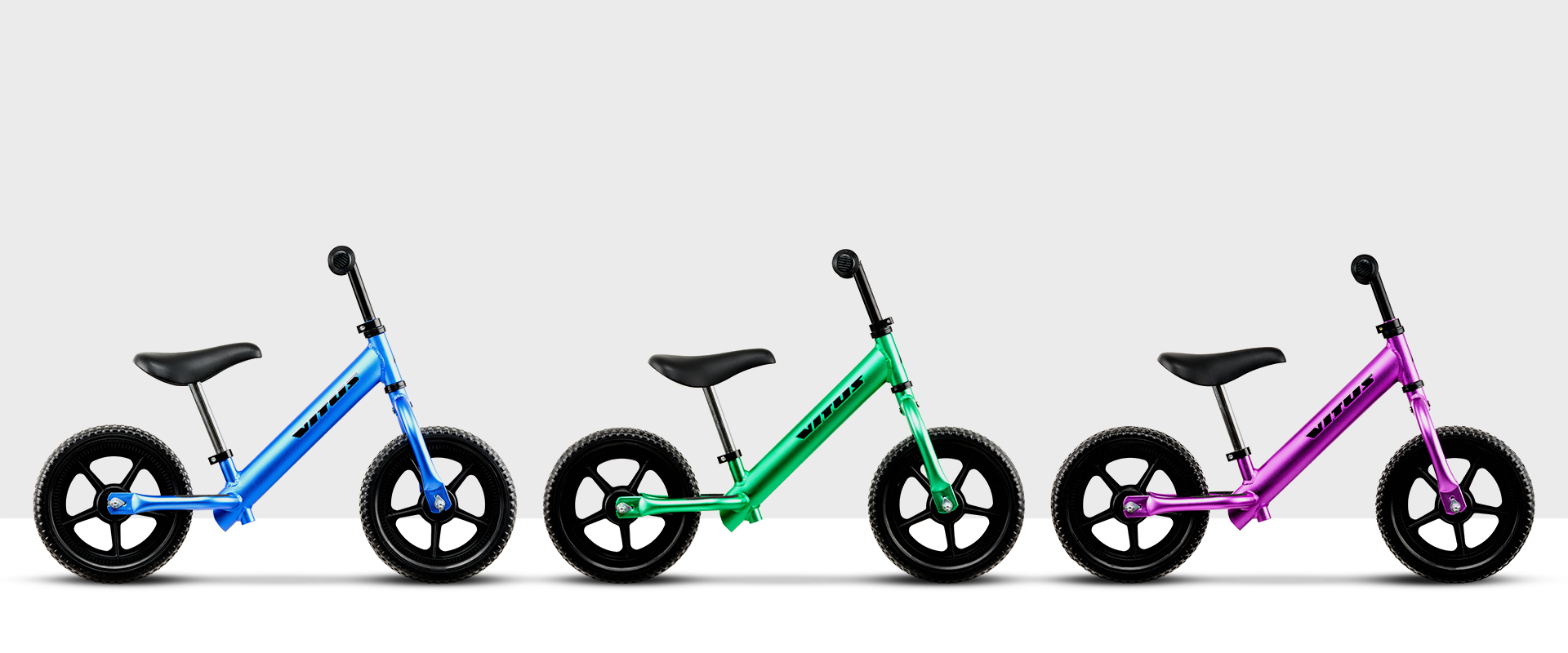 The Vitus Nippy Superlight Balance Bike
Our lightweight kids balance bike truly lives up to its name, as it's the lightest aluminium type on the market. Your little one will grow in confidence each time they get on, as this easy to manoeuvre little Vitus bike will help them to learn the basics of balance quickly and easily.
The incredibly lightweight aluminium construction makes the Nippy Superlight Balance Bike easy to carry around and paired with mini 10" mag wheels with solid plastic tyres, your child will be rolling along with ease and with minimal maintenance for you.
The handlebars are adjustable and the seatpost allows room for growth, which means the bike can be set to the perfect size as your child grows.
Available in a range of coulours so that your kid can have their perfect first bike.
Before purchasing this balance bike, please read the relevant safety information found HERE. Please note, this product is currently unavailable to purchase in USA and Australia. 
Features:
Lightest Aluminium Balance Bike on the Market
Weight: 1.9kg
Frame Material
6061-T6 Aluminium
Wheel Size
10" Mag Wheels
Saddle Height
Minimum: 31cm / Maximum: 38cm
Tyre Type
Solid Tyres
£44.99
Shop with Preferred Partner
Geometry & Sizing
Wheel Size

 

14"

16"
20"
24"
Rec. Rider Height (Imperial)
3' 2" - 3' 4"
3' 4" - 4' 0"
3' 9" - 4' 2"
4' 1" - 4' 6"
Rec. Rider Height (Metric)
98 - 106cm
104 - 122cm
120 - 130cm
127 - 142cm
Rec. Inside Leg (Imperial)
14" - 17"
16" - 21"
20" - 23"
22" - 25"
Rec. Inside Leg (Metric)
36 - 44cm
40 - 54cm
52 - 59cm
57 - 66cm
Seat Tube - CT
210mm
226mm
280mm
340mm
Seat Tube - CC
160mm
176mm
230mm
290mm
(A)Virtual TT
380.6mm
395.8mm
425mm
457.3mm
Front Centre
444mm
461.5mm
501mm
554.1mm
Wheelbase
690mm
758.5mm
832.9mm
939.6mm
(E)Headtube
100mm
100mm
100mm
100mm
Fork Rake
30mm
45mm
45mm
45mm
Fork Length
242mm
267mm
317mm
367mm
(B)HT Angle
67.5°
67.5°
67.5°
67.5°
(C)ST Angle
72.5°
72.5°
72.5°
72.5°
(D)Chainstay
246mm
297mm
335mm
390mm
BB Drop
0mm
0mm
35mm
45mm
Crank length
89mm
102mm
114mm
140mm
Tyre size
14x2.0"
16x2.0"
20x1.75"
24x1.75"
(F)Stack 
310mm
326mm
372mm
461mm
(G)Reach
286mm
96mm
311mm
331mm
Stem length
60mm
60mm
60mm
75mm
Handlebar Width
420mm
440mm
560mm
560mm
Help
Where can I buy Vitus Bikes?
You can buy Vitus bikes directly through our exclusive retailers Wiggle and Chain Reaction Cycles
Do your bikes come with Warranty?
We offer a 5-year warranty on all our frames. On top of that we also offer an extended 2-year warranty on all components excluding wear and tear items such as bearings, brake pads, chains & cassettes etc. Our Warranty policy applies to the original owner and processed by our exclusive retail partners.To see their warranty process check: CRC & Wiggle
Where can I buy touch up paint for my bike?
We have partnered up with paint specialist G-Paint to offer touch up paints for popular Vitus models. These can be bought direct from G-Paint's website HERE.