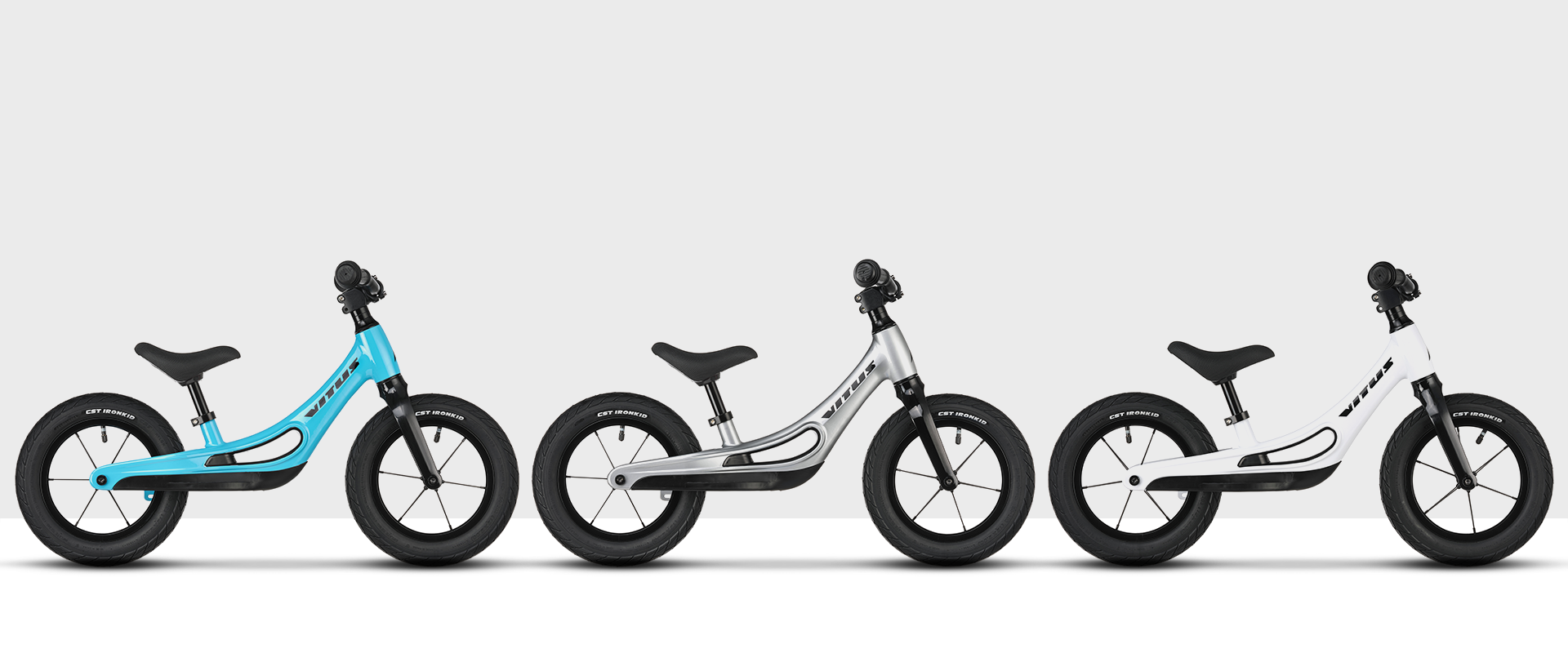 The Vitus Smoothy Balance Bike
A lightweight premium balance bike and arguably one of the most important bikes in the Vitus range. The Smoothy gives kids total confidence from their first ride.
The Vitus kids range is designed to make progression easy, helping learn those essential skills that will stay with them for life, whilst maximising the fun. A no compromise design approach and expertly selected components, result in a bike that's not only one of the lightest on the market, but let's be honest…you'd actually quite like to ride it yourself.
The Smoothy features a unique cast Magnesium frameset, that has allowed us to create an extremely functional, yet awesome looking bike. Within the design, we have incorporated a useful carry handle for Mum & Dad, and some integrated footrests for that game changing moment when your child has the confidence to glide.
We've taken inspiration from our adult bikes for the steering controls, with the headset upper and lower bearings making the steering control smooth and reliable, with 20mm of spacers under the stem allowing you to fine tune the height of the handlebars. A shorty stem and quality set of aluminium handlebars with slight back sweep, and some soft and comfortable TRP grips round out the front of the bike.Saddles are often overlooked on balance bikes, but definitely not here. We have a specially designed balance bike saddle that features a 'scoop' shape so your child will be sat in the correct position all of the time. This ensures they can steer effectively and are positioned perfectly, giving themselves the best possible change of balancing effectively. Our seatpost is fully height adjustable allowing room for growth
The lightweight wheels feature a set of premium aluminium 12 spoke hubs, helping to keep weight to a minimum, and giving the bike a very cool look. We've fitted CST IRONKID 12 x 2.1" tyres which have been carefully chosen to deliver excellent rolling capability on both hard or soft ground, so the bike remains efficient to glide no matter what the surface.
Before purchasing this balance bike, please read the relevant safety information found HERE. Please note, this product is currently unavailable to purchase in USA and Australia. 
Features:
Premium Balance Bike
Magnesium Frame & Fork with grippy rubber tyres
Frame Material
Magnesium - Weight: 3.2kg
Wheel Size
12" Aluminium Wheels
Saddle Height
Minimum: 33cm / Maximum: 44cm
Tyre Type
CST Ironkid 12x2.1" Rubber Tyres
£89.99
Shop with Preferred Partner

Geometry & Sizing
Wheel Size

 

14"

16"
20"
24"
Rec. Rider Height (Imperial)
3' 2" - 3' 4"
3' 4" - 4' 0"
3' 9" - 4' 2"
4' 1" - 4' 6"
Rec. Rider Height (Metric)
98 - 106cm
104 - 122cm
120 - 130cm
127 - 142cm
Rec. Inside Leg (Imperial)
14" - 17"
16" - 21"
20" - 23"
22" - 25"
Rec. Inside Leg (Metric)
36 - 44cm
40 - 54cm
52 - 59cm
57 - 66cm
Seat Tube - CT
210mm
226mm
280mm
340mm
Seat Tube - CC
160mm
176mm
230mm
290mm
(A)Virtual TT
380.6mm
395.8mm
425mm
457.3mm
Front Centre
444mm
461.5mm
501mm
554.1mm
Wheelbase
690mm
758.5mm
832.9mm
939.6mm
(E)Headtube
100mm
100mm
100mm
100mm
Fork Rake
30mm
45mm
45mm
45mm
Fork Length
242mm
267mm
317mm
367mm
(B)HT Angle
67.5°
67.5°
67.5°
67.5°
(C)ST Angle
72.5°
72.5°
72.5°
72.5°
(D)Chainstay
246mm
297mm
335mm
390mm
BB Drop
0mm
0mm
35mm
45mm
Crank length
89mm
102mm
114mm
140mm
Tyre size
14x2.0"
16x2.0"
20x1.75"
24x1.75"
(F)Stack 
310mm
326mm
372mm
461mm
(G)Reach
286mm
96mm
311mm
331mm
Stem length
60mm
60mm
60mm
75mm
Handlebar Width
420mm
440mm
560mm
560mm
Help
Where can I buy Vitus Bikes?
You can buy Vitus bikes directly through our exclusive retailers Wiggle and Chain Reaction Cycles
Do your bikes come with Warranty?
We offer a 5-year warranty on all our frames. On top of that we also offer an extended 2-year warranty on all components excluding wear and tear items such as bearings, brake pads, chains & cassettes etc. Our Warranty policy applies to the original owner and processed by our exclusive retail partners.To see their warranty process check: CRC & Wiggle
Where can I buy touch up paint for my bike?
We have partnered up with paint specialist G-Paint to offer touch up paints for popular Vitus models. These can be bought direct from G-Paint's website HERE.