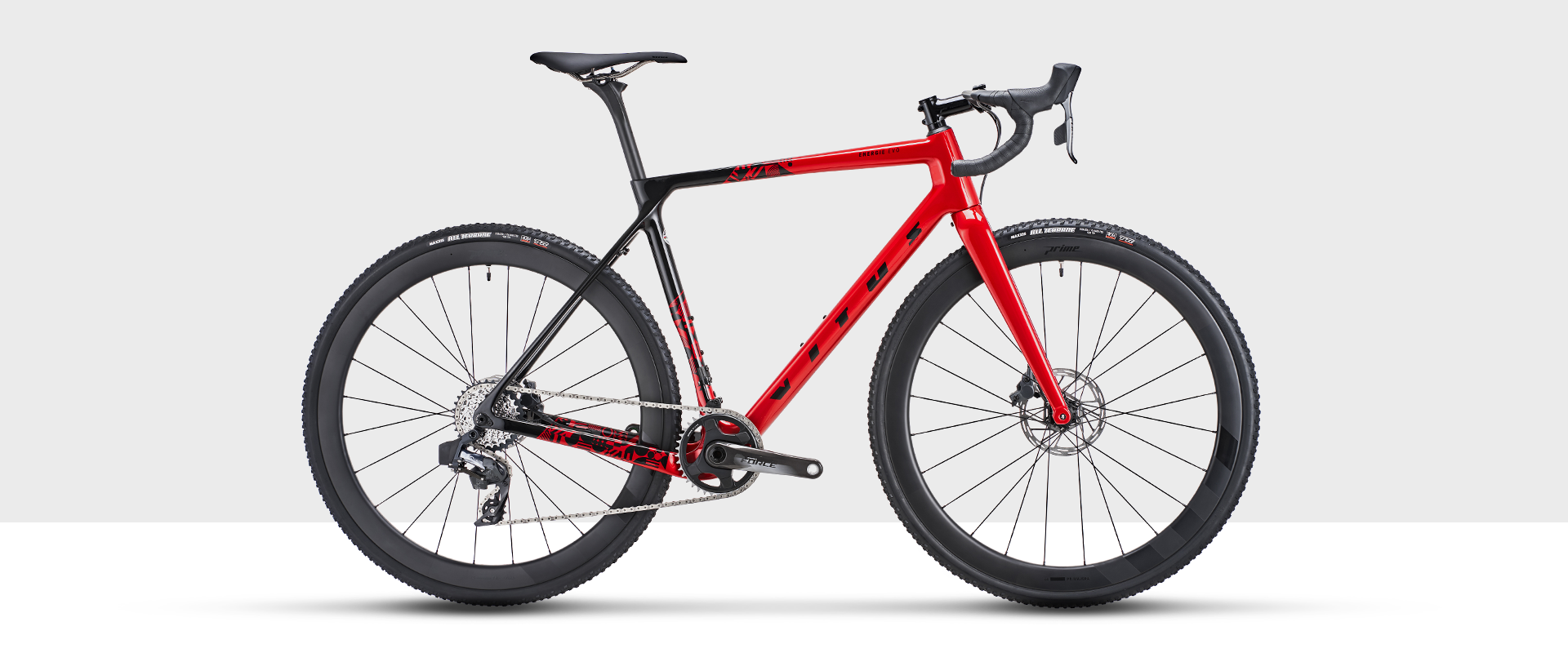 The Vitus Energie EVO Force eTap CX Bike has the clean lines and sleek aesthetic of a modern carbon race bike. But its best side is not the one leaning pristine against an immaculate garage wall or sparkling for Instagram. It's the one ready to race laps of a grassy park in the rain, slide into muddy corners, power through sand and compete in the worst winter weather.
This bike is for the passionate. This is for those who come alive on cold Sunday mornings, who delight in the rush of exciting racing. This is for those looking for the difference without compromising the basic joy of riding. Importantly, this is UCI-approved and podium-ready. A game-changer. Whether racing for the podium or just for fun, the frame is loaded with thoughtfully engineered features that are uniquely designed and refined for the demands of cyclocross. A flatter top tube sits comfortably into the shoulder and single-entry cable routing reduces penetration of dirt so that performance is not reduced by wet conditions or a jet wash. A revised carbon lay-up improves the stiffness for power out of the turns, where it really matters mid-race, while also reducing weight for when you need to carry or charge into a climb.
The top tube is slightly longer and the stem a touch shorter than before, keeping weight distribution slightly back from the front end, so the handling feels snappy and responsive - this is immediate control, whatever the conditions. Frame clearance around the Prime Primavera 44 Carbon wheels is vast, so your speed won't be slowed, nor the bike weighed down by mud. It also makes the bike easy to clean for your pit crew, and when the racing is done you can spray it down quickly and put it straight into the car.
A Vitus is always best being ridden, not hanging on a wall, waiting or posing. So when you're not lining up for cyclocross, thanks to an innovative removable seat stay bridge, you can add mudguards and carry on with your winter training and year-round commuting. However hard the ride, with the Energie the fun is always turned right up. Why wouldn't you want to keep riding this bike?
Race-Fit geometry
SL UD Carbon frame and fork
Huge mud clearance
SRAM Force 1x11 groupset
Lightweight Prime Carbon wheels
Race ready 33c tubeless tyres
Features:
EVO Carbon Platform
Pro level race ready performance
Frame Material
SL UD Carbon
Wheel Size
700c
Available Size
XS, S, M, L, XL
Colour
Candy Red - Black
Weight:
Medium: 8.1kg
£3,899.99
Shop with Preferred Partner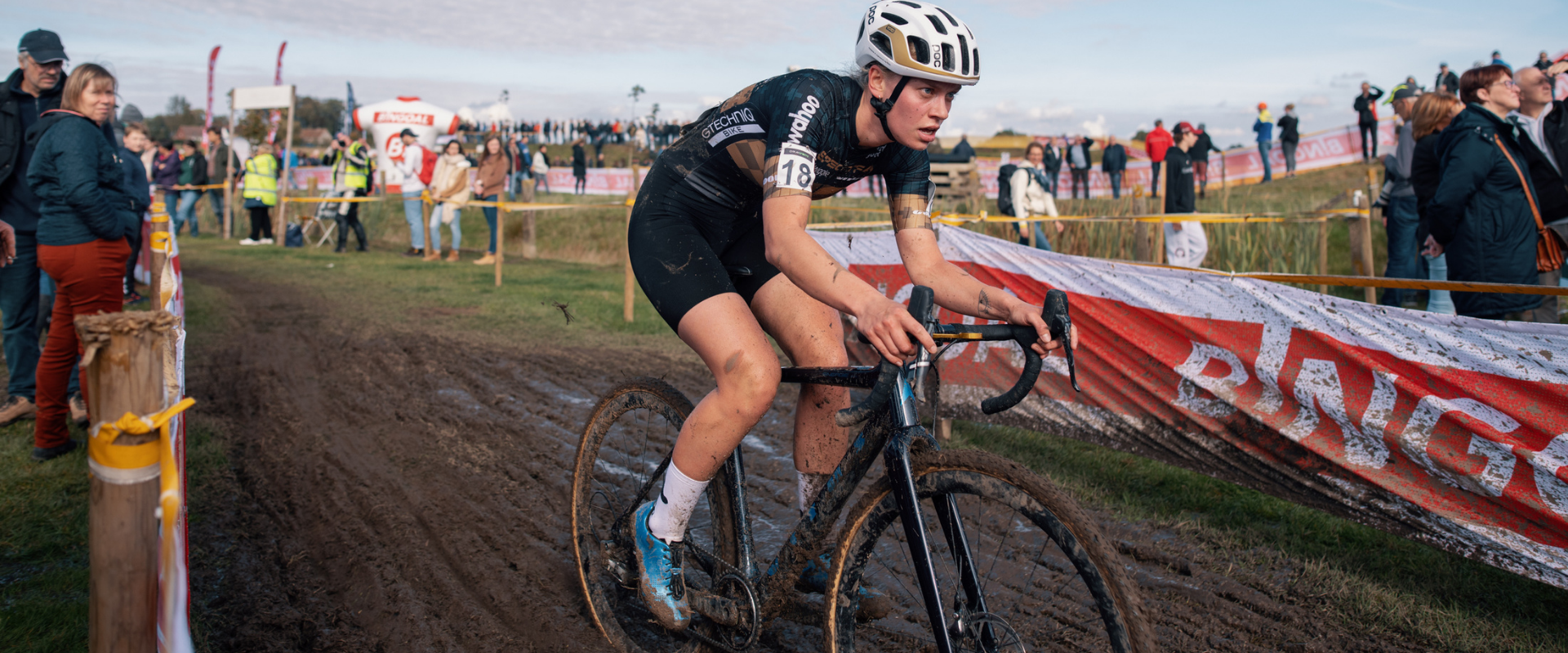 Specifications
FRAMEEnergie EVO Carbon

SL UD Carbon, UCI Approved, Internal Cable Routing, Removeable Seat-Stay Bridge, Removeable Front Deraileur Mount, Integrated Seat Clamp, Integrated Mudguard Mounts, 12mm x 142mm axle

REAR HUB Prime SR1D

142mm x 12mm Thru Axle, Centrelock, XD-R Freehub

FORKSEnergie EVO Carbon

SL UD Carbon, Tapered Steerer, 100 x 12mm, Integrated Mudguard Mounts.

WHEELSET

Prime Primavera 44 Carbon Disc

Tubebess Ready, 100mm x 12mm front hub spacing, 142mm x 12mm rear hub spacing, Centrelock Disc Brake, HG Freehub

CHAINSETSRAM Force 1 Carbon

D1 DUB, X-SYNC 38T, XS:170mm S:170mm M:172.5mm L:172.5mm XL:175mm

FRONT TYREMaxxis All Terrane

700c x 33mm, Tubeless Ready

BOTTOM BRACKETSRAM DUB

BB 386EVO

REAR TYREMaxxis All Terrane

700c x 33mm, Tubeless Ready

FRONT DERAILLEUR

N/A

BRAKESSRAM Force eTap AXS D1 HRD

Hydraulic Disc

REAR DERAILLEURSRAM Force eTap AXS D1

12, Speed, Medium Cage

BRAKE ROTORSSRAM Paceline

Front:160mm, Rear:140mm, Centrelock

FRONT SHIFTER

N/A

HANDLEBARS

Prime Primavera Aero Carbon

UD Carbon, 76.5mm Reach, 122mm Drop, XS:400mm S:400mm M:420mm L:420mm XL:440mm

REAR SHIFTER

SRAM Force eTap AXS D1 HRD

12 Speed

STEM

Prime Doyenne Lightweight

6061 Aluminium, bar bore 31.8mm, +/- 5 degrees, XS:80mm S:80mm M:90mm L:90mm XL:100mm

CASSETTESRAM XG-1270

10-36T, 12 Speed

HEADSET

ACROS Aix 322 R3

Sealed Bearings, OD48, 1 1/8" – 1 ½", 41.8 / 28.6 – 52 / 40

CHAIN

SRAM Force D1

PowerLock D1 Connector

GRIPS

Vitus SuperGrip

Anti Slip

FRONT RIM

Prime Primavera 44 Carbon Disc

T800 UD Carbon Fibre, 700c, 23mm internal width, 30mm external width, 44mm depth

SADDLE

Vitus Race Performance

CRN-Ti Rail, Pressure Relief Channel

REAR RIM

Prime Primavera 44 Carbon Disc

T800 UD Carbon Fibre, 700c, 23mm internal width, 30mm external width, 44mm depth

SEATPOST

Prime Primavera Carbon

27.2mm x 350mm, 10mm Offset

FRONT HUB

Prime SR1D

100mm x 12mm Thru Axle, Centrelock

SEATCLAMP

Energie EVO Integrated

Internal Wedge System
Geometry & Sizing
Frame Size
XS
S
M
L
XL
Rec. Rider Height (Imperial)
5' 1" - 5' 5"
5' 5" - 5' 9"
5' 9" - 5' 11"
5' 11" - 6' 3"
6' 3" - 6' 7"
Rec. Rider Height (Metric)
155 - 165cm
165 - 176cm
175 - 182cm
182 - 190cm
190 - 200cm
Rec. Inside Leg (Imperial)
27" - 29"
29" - 31"
31" - 33"
33" - 35"
35" - 37"
Rec. Inside Leg (Metric)
68 - 76cm
75 - 79cm
80 - 84cm
83 - 88cm
87 - 94cm
(A) Seat Tube - CT
470
490
510
530
550
(B) Seat Tube - CC
454
474
494
514
534
(C) Virtual TT
517.8
539.3
560.1
581.9
601.8
(D) Front Centre
591
603.03
613.97
626.03
637.41
(E) Wheelbase
1007
1019
1030
1042
1053
(F) Headtube
101.2
120
142
165.93
183.23
(G) Fork Rake
45
45
45
45
45
(H) Fork Length
400
400
400
400
400
(I) HT Angle
70.3
70.8
71.5
72.1
72.5
(J) ST Angle
74.8
74.2
73.8
73.4
73
(K) Chainstay
425
425
425
425
425
(L) BB Drop
66
66
66
66
66
Crank Length
165
170
172.5
172.5
175
Max Tyre Size
700 x 45c
700 x 45c
700 x 45c
700 x 45c
700 x 45c
(M) Stack 
523
542
565
590
611
(N) Reach
376
386
396
406
415
Stand Over Height
786.69
805.15
825.74
847.28
866.8
Stem length
80
90
90
100
110
Handlebar Width
400
400
420
420
440
Bottom Bracket
BB386 EVO
46mm ID x 86mm W
BB386 EVO
46mm ID x 86mm W
BB386 EVO
46mm ID x 86mm W
BB386 EVO
46mm ID x 86mm W
BB386 EVO
46mm ID x 86mm W
Headset
Tapered 1 1/8" > 1 1/2"
Upper: IS41.8/28.6
Lower: IS52/40
Tapered 1 1/8" > 1 1/2"
Upper: IS41.8/28.6
Lower: IS52/40
Tapered 1 1/8" > 1 1/2"
Upper: IS41.8/28.6
Lower: IS52/40
Tapered 1 1/8" > 1 1/2"
Upper: IS41.8/28.6
Lower: IS52/40
Tapered 1 1/8" > 1 1/2"
Upper: IS41.8/28.6
Lower: IS52/40
Seat Post
350mm x 27.2mm
350mm x 27.2mm
350mm x 27.2mm
350mm x 27.2mm
350mm x 27.2mm
Help
What are the Torque settings on the Energie EVO?
You can find the tech documents for our Vitus Energie EVO here: Energie EVO Tech Documents
What gear hanger do I need for my Energie EVO?
You require Vitus Hanger #22 you can buy this from one of our retail partners below;
Wiggle: Vitus Hanger 22
Chain Reaction Cycles: Vitus Hanger 22
Where can I buy Vitus Bikes?
You can buy Vitus bikes directly through our exclusive retailers Wiggle and Chain Reaction Cycles
Do your bikes come with Warranty?
We offer a 5-year warranty on all our frames. On top of that we also offer an extended 2-year warranty on all components excluding wear and tear items such as bearings, brake pads, chains & cassettes etc. Our Warranty policy applies to the original owner and processed by our exclusive retail partners.To see their warranty process check: CRC & Wiggle