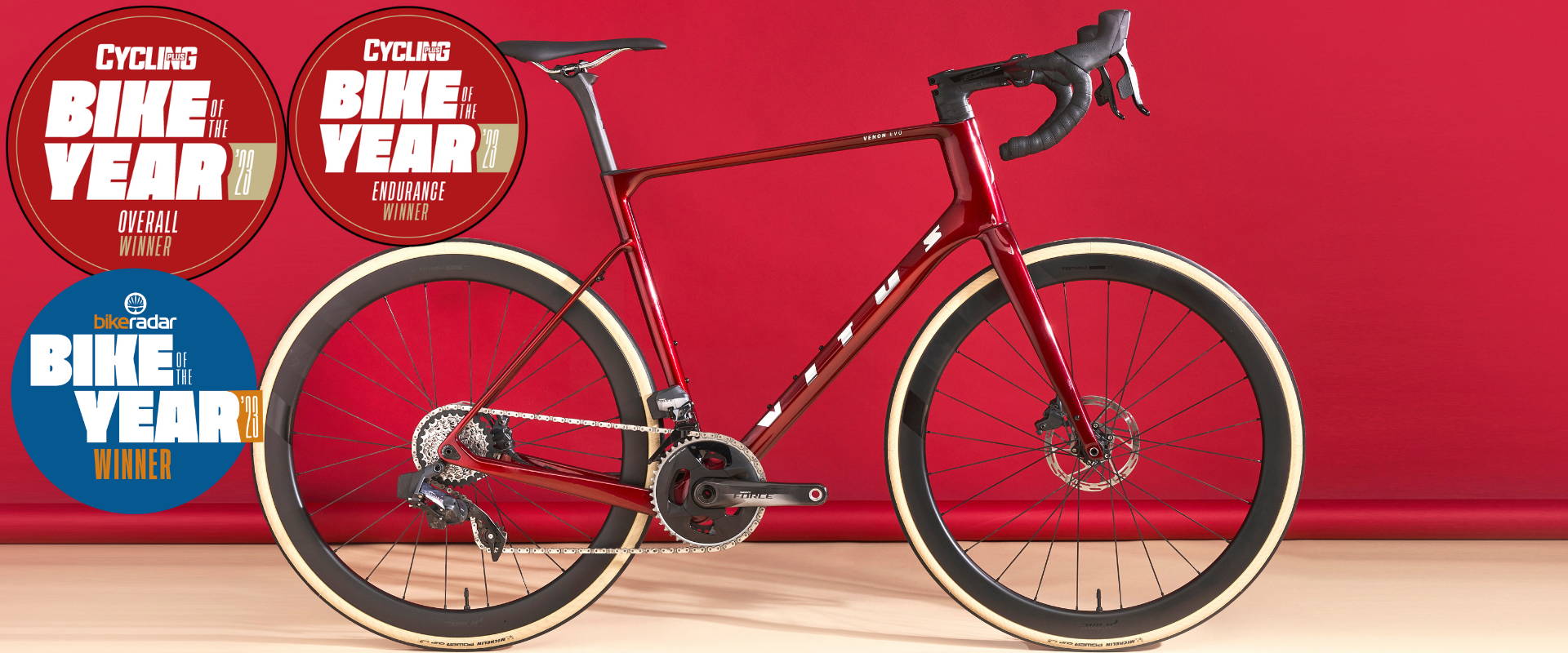 Launching the brand-new Venon EVO is a huge deal for us at Vitus, but getting to launch the bike with accolades like "Bike of The Year" feels like an absolute dream.
The Vitus Venon EVO-RS Force AXS all-road bike has been named the Bike Radar/Cycling Plus 2023 Bike of the Year and 2023 Road Bike of the Year, winning its titles from a pool of 25 bikes including some of the biggest names in the cycling industry.
We're proud, honored, excited, overjoyed — you name it, any adjective probably applies. Most of all, we're happy the Venon EVO is being recognized for what it is: a top-notch bicycle that smartly balances versatility and performance.
We can swoon over the Venon all day long, but in this case, we'll let Bike Radar/Cycling Plus do the talking for us.
"It's a bike that's as good as any Endurance bike on the road, but it has versatility in its heart too," Senior Techincal Editor, Warren Rossiter, wrote in their Bike of the Year piece on the Venon EVO-RS. "You can get huge 45c tyres into the frame and make it into a very capable and speedy gravel machine (in fact, Vitus is offering gravel builds at launch). Add mudguards and big-volume road tyres and make it a long[1]distance audaxer beyond compare. It's light and has lively handling that brings that all-important smile factor to every ride, so it combines the sensible with the sensational."
The Venon EVO-RS is the road-spec iteration of our Venon EVO all-road bike. It and it's sibling, the Venon EVO-GR, share the exact same frame but differ on components. The EVO-RS comes stock with road tires and a road groupset, while the EVO-GR comes with gravel tires and a 1x gravel groupset. In either iteration, we envision the bike as a versatile option that'll meet its riders match no matter the terrain.
It's a pick your poison kind of bike — are you more the type hungry for washboard and dust, or do you prefer big days pounding pavement? Or, with a second set of wheels you can have the best of both worlds. The choice is yours.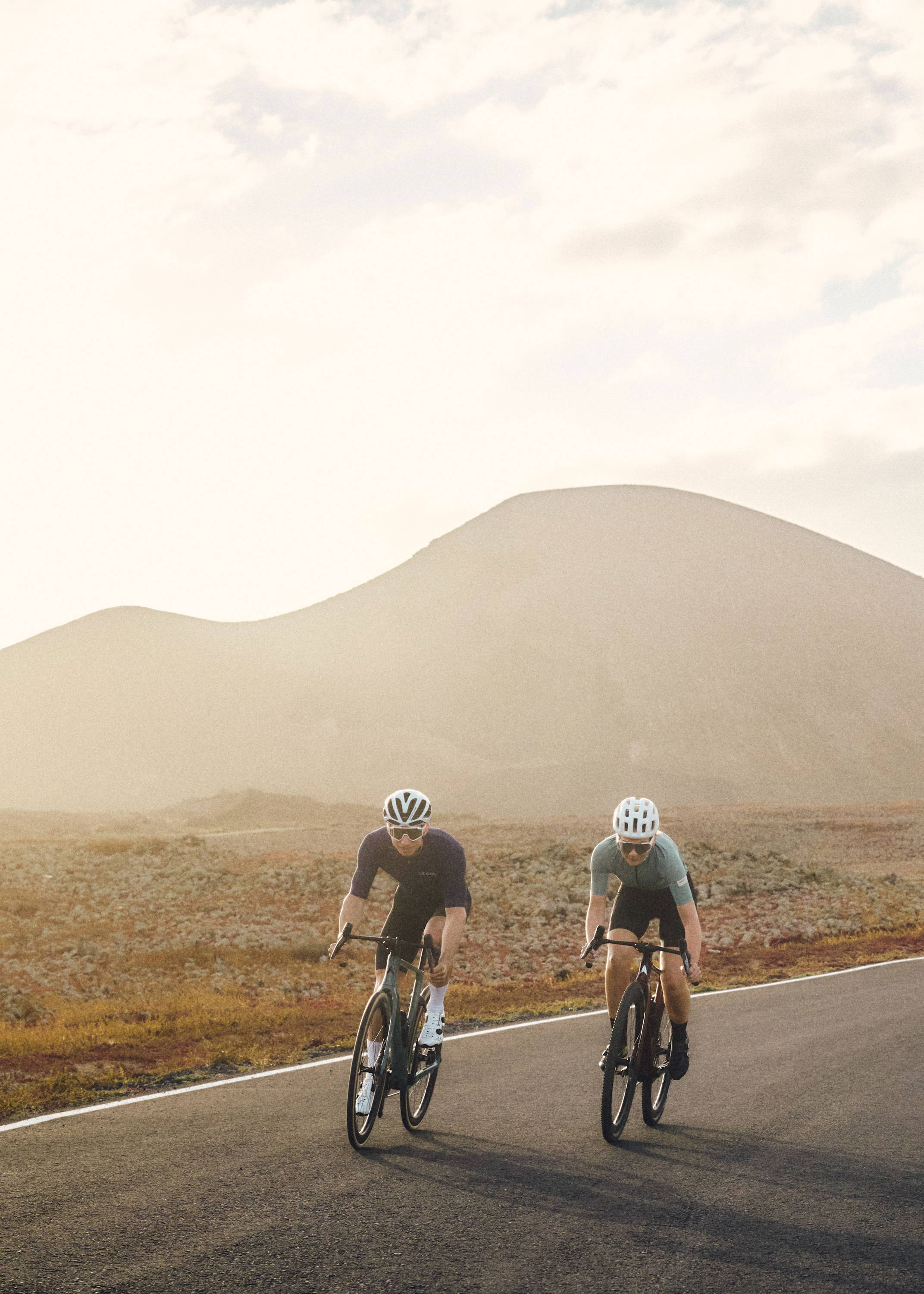 But, aside from recognizing the Venon EVO's performance and versatility, we're glad the editors at Bike Radar/Cycling Plus also saw the bike's value.
At Vitus we hold near and dear the belief that a great bike shouldn't require a second mortgage on your house. It's a belief we inject into every bike we design and every spec choice we make. We think every rider deserves the best bike possible, and jacking up prices is simply counter to that spirit.
"During a cost-of-living crisis, Vitus needs to be applauded and celebrated for delivering value and fun alongside supreme quality and versatility," Rossiter wrote. "And that's why it's romping to our Bike of the Year 2023 title, a first for the Northern Irish brand. A bright future awaits."
Don't take our word for it – the Venon EVO has been garnering praise from every corner of the cycling media. Take a look at what they've had to say:
JUST RIDE BIKES
David Arthur from Just Ride Bikes gives an excellent and informative comparison between the road and gravel models of the Venon Evo. Watch the video below.
---
ROAD.CC
"I've been riding these bikes over the last few weeks and I can vouch for their performance, both in terms of the handling and the speed on offer. They are light, responsive and very stiff regardless of what terrain you are asking them to tackle."
CYCLING WEEKLY
"While Vitus says that calling the Venon Evo a 'quiver killer' is a cliche too far, it does appear that the bike is designed to be just that. For cyclists who don't have room for a dedicated gravel bike, literally or otherwise, the road-orentiated Venon can seemingly switch guises with a change of tires."
BIKERADAR
"The new Venon is arguably a big step for Vitus. It is the first high-performance bike Vitus has made without the sole purpose of winning races. Vitus says the Venon is about bringing racing DNA and technology to riders who just want to enjoy the ride." 
cyclingtips
"We're starting to see more and more bikes that strictly adhere to the road bike with more tire clearance motif. The Allied Echo, BMC Kaius, and Cervelo Aspero are big ones, and there are even folks out there using the Specialized Crux with road wheels and tires. The Venon Evo falls right in with that crowd." 
---
---
cycling weekly
"I was impressed with how the Venon Evo-GR coped with terrain that it shouldn't be able to ride particularly well. It coped with big sections of bridleway mud well. You couldn't just paddle your way out as the tread is too fine to allow that, but if you picked a good line and fired it at the mud you could skate over the top."
bike perfect
"Presumably when Vitus says "one bike, two personalities" they mean gravel and road, because as far as I am concerned it only has one personality, fast. As soon as I started riding the Venon its performance instincts kicked in. The frame feels tight and reactive to rider input, kick on the pedals and the Venon EVO has a real pick up and go energy."
---