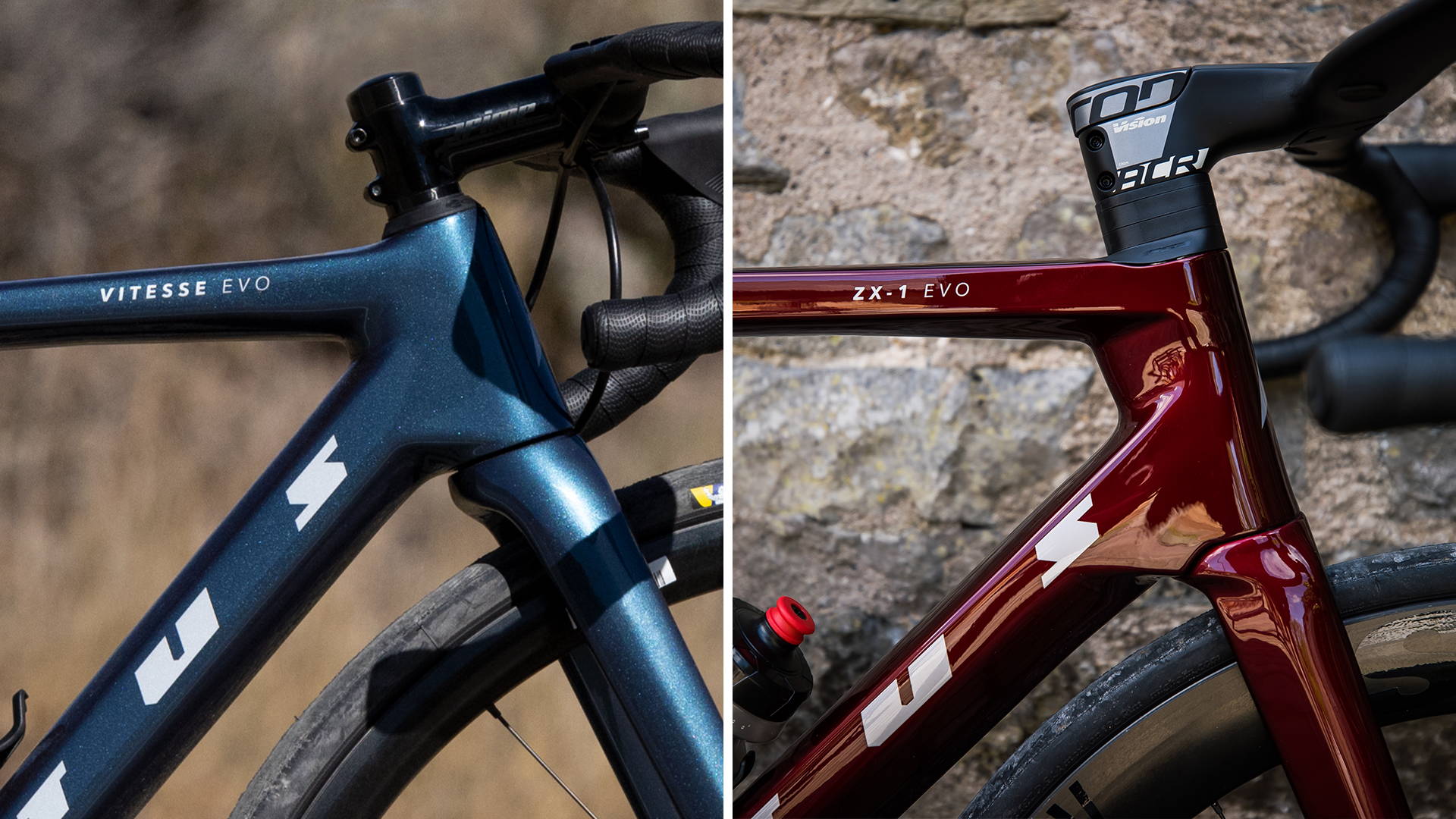 Choosing your new road bike can be frustrating. It's far too easy to become overwhelmed by the abundance of options out there and find yourself trapped in a limbo of spec sheets and geo charts. It shouldn't be this hard to find a bike that will suit your needs. Let's take a look at our two performance road bikes, the Vitesse EVO and ZX-1 EVO.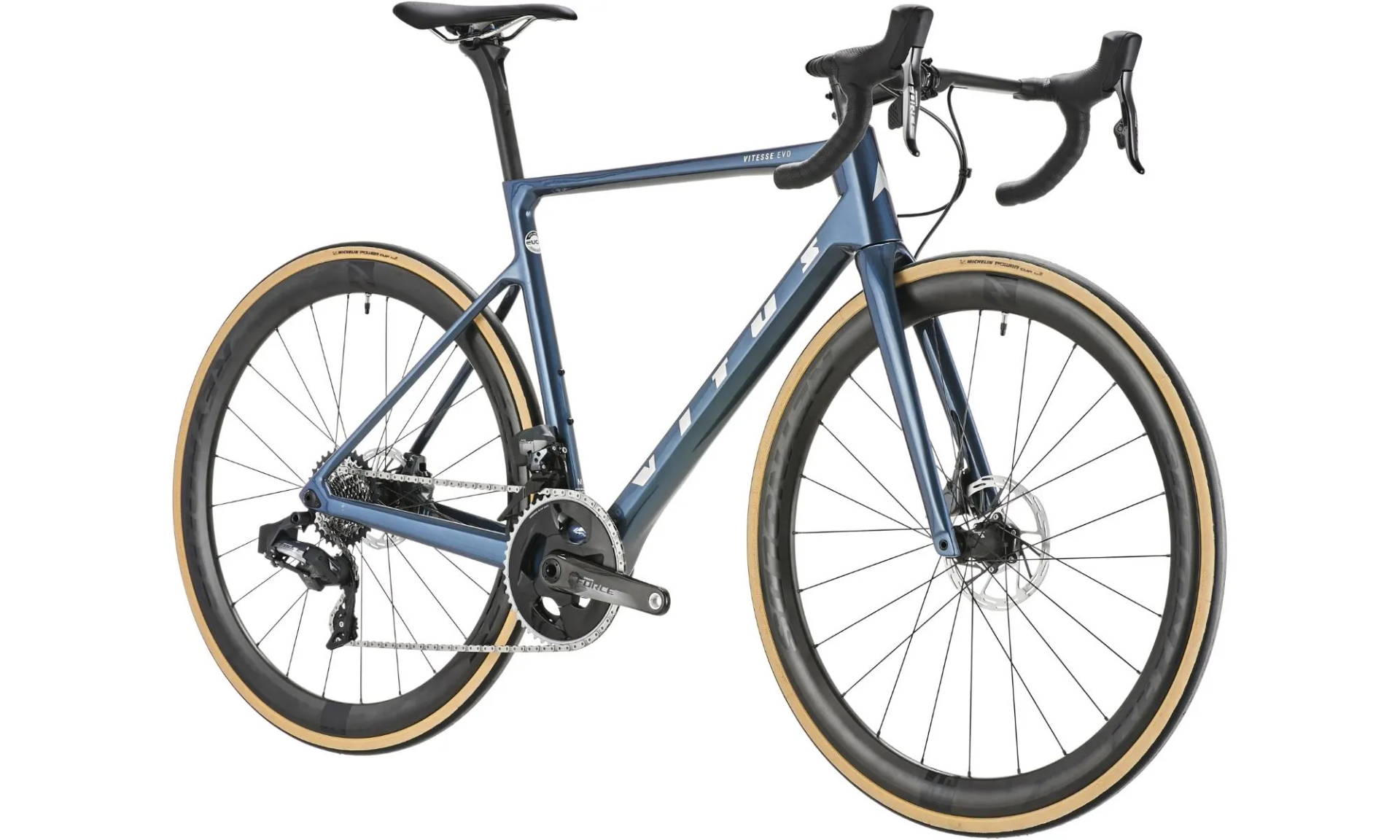 The All-Round

Performance Road

Bike

 
The Vitesse EVO is an all-purpose lightweight performance road bike, equally proficient at dancing uphill, taking turns in the paceline, and descending with confidence. The geometry is performance-oriented, striking an ideal balance between responsiveness and comfort without sacrificing speed. The Vitesse EVO is a racer's all-rounder.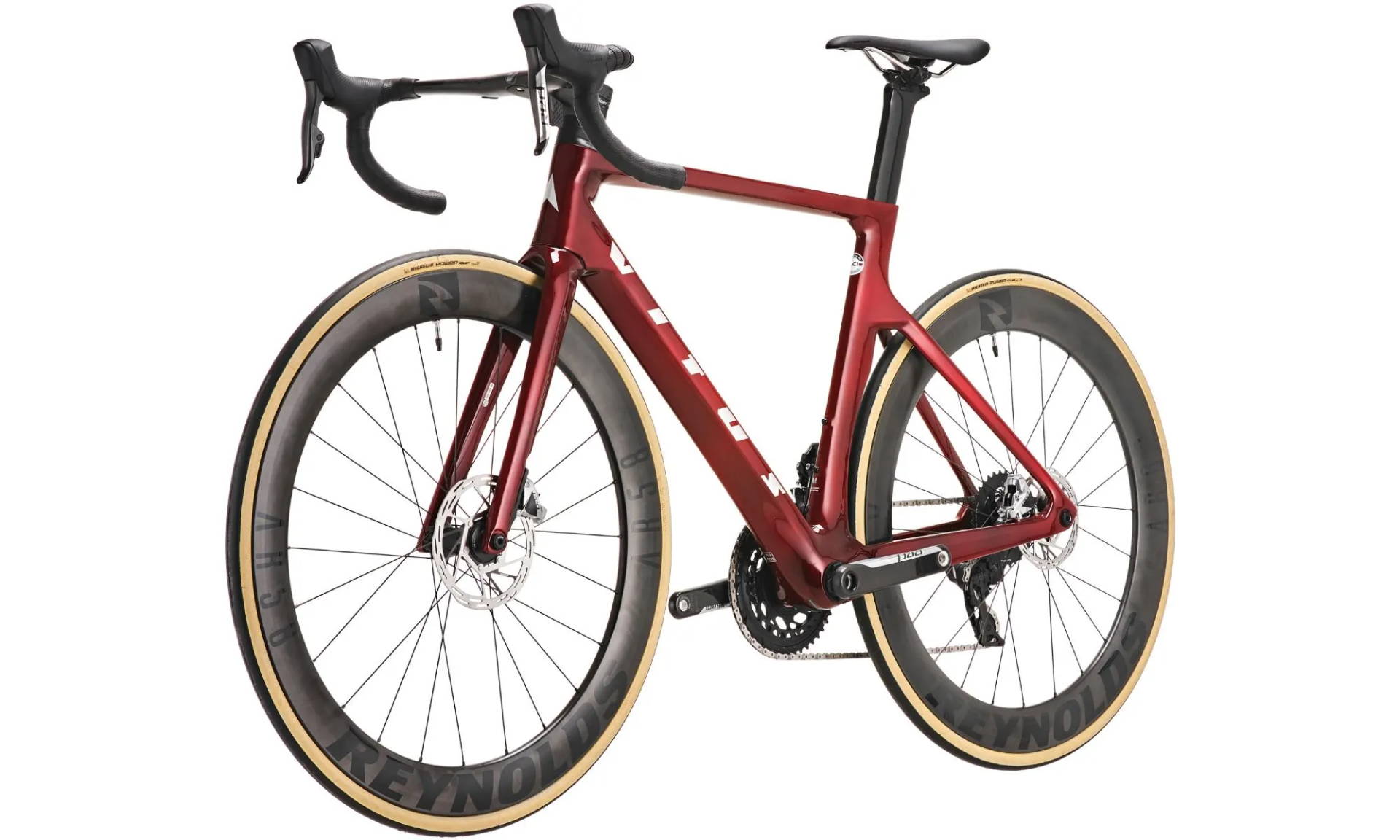 The Aero Speed Specialist

 
Criterium racers, take note: the ZX-1 EVO is an absolute speed demon that will inspire you to break personal records. Its aerodynamic tubing profiles were developed in partnership with the computational fluid dynamics experts at TotalSim, based at the legendary Silverstone race track in England. The F1 comparisons don't stop there – the ZX-1 EVO is a sleek and muscular sprint specialist, built for pure speed. 
SIMILARITIES
The Vitesse EVO and ZX-1 EVO are both ready to race right out of the box, designed with aggressive geometry and specced with smart component choices. Both frames are precision-built using monocoque construction – put simply, they are made from a single piece rather than multiple pieces of carbon bonded together. This allows for optimal weight savings and stiffness. This also creates a more durable frame that distributes stress evenly when you lay down the watts. Both bikes can clear up to a 30mm tire for training on rougher roads. 
DIFFERENCES
If you're only looking at their geometry charts, the Vitesse EVO and ZX-1 EVO seem to be incredibly similar. But look beyond the angles, and you'll find a few major differences between these two bikes.  
Aerodynamic tubing plays a big role here. For all of its aero gains and stiffness, the ZX-1 EVO (at 17.2 lbs in size medium) weighs a touch more than the Vitesse EVO (at 16.3 lbs in size medium). The ZX-1 EVO has a slightly stiffer frame that provides a responsive, "quick off the line" ride quality, whereas the Vitesse EVO will be more forgiving for comfort over longer distances.  
The Vitesse EVO is designed with commonly available 31.8mm bars, a 27.2mm seatpost, and partially internal cable routing, whereas the Vitus ZX-1 EVO is built for aerodynamic efficiency, with an aero seatpost and fully integrated cable routing.  
So which bike is the right one for your needs? Ultimately, it all depends on what kind of riding you'll be doing. Still can't decide? Need a second opinion? The pro reviewers at Road.cc compared these two bikes in a short, informative, and thorough video. Take a look below.
---
VITUS VITESSE EVO
VITUS ZX-1 EVO

| | |
| --- | --- |
| (A) SEAT TUBE - CT | 470mm |
| (B) SEAT TUBE - CC | 450mm |
| (C) VIRTUAL TT | 523.9mm |
| (D) FRONT CENTER | 583mm |
| (E) WHEELBASE | 983mm |
| (F) HEAD TUBE | 104.5mm |
| (G) FORK RAKE | 51mm |
| (H) FORK LENGTH | 370mm |
| (I) HT ANGLE | 70.9° |
| (J) ST ANGLE | 73.6° |
| (K) CHAINSTAY | 410mm |
| (L) BB DROP | 70mm |
| (M) STACK | 502.9mm |
| (N) REACH | 375.9mm |
| STANDOVER HEIGHT | 754.39mm |

| | |
| --- | --- |
| (A) SEAT TUBE - CT | 470mm |
| (B) SEAT TUBE - CC | 450mm |
| (C) VIRTUAL TT | 520mm |
| (D) FRONT CENTER | 579mm |
| (E) WHEELBASE | 979mm |
| (F) HEADTUBE | 89.5mm |
| (G) FORK RAKE | 51mm |
| (H) FORK LENGTH | 370mm |
| (I) HT ANGLE | 70.9° |
| (J) ST ANGLE | 73.6° |
| (K) CHAINSTAY | 410mm |
| (L) BB DROP | 70mm |
| (M) STACK | 500mm |
| (N) REACH | 372mm |
| STANDOVER HEIGHT | 752.95mm |
VITUS VITESSE EVO
VITUS ZX-1 EVO

| | |
| --- | --- |
| (A) SEAT TUBE - CT | 490mm |
| (B) SEAT TUBE - CC | 470mm |
| (C) VIRTUAL TT | 537.1mm |
| (D) FRONT CENTER | 592mm |
| (E) WHEELBASE | 992mm |
| (F) HEAD TUBE | 127.3mm |
| (G) FORK RAKE | 51mm |
| (H) FORK LENGTH | 370mm |
| (I) HT ANGLE | 71.6° |
| (J) ST ANGLE | 73.5° |
| (K) CHAINSTAY | 410mm |
| (L) BB DROP | 69mm |
| (M) STACK | 524mm |
| (N) REACH | 381mm |
| STANDOVER HEIGHT | 775.37mm |

| | |
| --- | --- |
| (A) SEAT TUBE - CT | 490mm |
| (B) SEAT TUBE - CC | 470mm |
| (C) VIRTUAL TT | 537mm |
| (D) FRONT CENTER | 590mm |
| (E) WHEELBASE | 990mm |
| (F) HEADTUBE | 112.3mm |
| (G) FORK RAKE | 51mm |
| (H) FORK LENGTH | 370mm |
| (I) HT ANGLE | 71.6° |
| (J) ST ANGLE | 73.5° |
| (K) CHAINSTAY | 410mm |
| (L) BB DROP | 69mm |
| (M) STACK | 522mm |
| (N) REACH | 381mm |
| STANDOVER HEIGHT | 774.37mm |
VITUS VITESSE EVO
VITUS ZX-1 EVO

| | |
| --- | --- |
| (A) SEAT TUBE - CT | 510mm |
| (B) SEAT TUBE - CC | 490mm |
| (C) VIRTUAL TT | 550.9mm |
| (D) FRONT CENTER | 591mm |
| (E) WHEELBASE | 991mm |
| (F) HEAD TUBE | 145mm |
| (G) FORK RAKE | 45mm |
| (H) FORK LENGTH | 370mm |
| (I) HT ANGLE | 72.4° |
| (J) ST ANGLE | 73.4° |
| (K) CHAINSTAY | 410mm |
| (L) BB DROP | 69mm |
| (M) STACK | 547mm |
| (N) REACH | 387mm |
| STANDOVER HEIGHT | 796.27mm |

| | |
| --- | --- |
| (A) SEAT TUBE - CT | 510mm |
| (B) SEAT TUBE - CC | 490mm |
| (C) VIRTUAL TT | 551mm |
| (D) FRONT CENTER | 591mm |
| (E) WHEELBASE | 991mm |
| (F) HEADTUBE | 129.6mm |
| (G) FORK RAKE | 45mm |
| (H) FORK LENGTH | 370mm |
| (I) HT ANGLE | 72.4° |
| (J) ST ANGLE | 73.4° |
| (K) CHAINSTAY | 410mm |
| (L) BB DROP | 69mm |
| (M) STACK | 543mm |
| (N) REACH | 387mm |
| STANDOVER HEIGHT | 794.28mm |
VITUS VITESSE EVO
VITUS ZX-1 EVO

| | |
| --- | --- |
| (A) SEAT TUBE - CT | 530mm |
| (B) SEAT TUBE - CC | 510mm |
| (C) VIRTUAL TT | 565.6mm |
| (D) FRONT CENTER | 599.9mm |
| (E) WHEELBASE | 1000.4mm |
| (F) HEAD TUBE | 162.7mm |
| (G) FORK RAKE | 45mm |
| (H) FORK LENGTH | 370mm |
| (I) HT ANGLE | 72.9° |
| (J) ST ANGLE | 73.3° |
| (K) CHAINSTAY | 410mm |
| (L) BB DROP | 68mm |
| (M) STACK | 565mm |
| (N) REACH | 396mm |
| STANDOVER HEIGHT | 815.7mm |

| | |
| --- | --- |
| (A) SEAT TUBE - CT | 530mm |
| (B) SEAT TUBE - CC | 510mm |
| (C) VIRTUAL TT | 566mm |
| (D) FRONT CENTER | 599.9mm |
| (E) WHEELBASE | 1000.4mm |
| (F) HEADTUBE | 147.8mm |
| (G) FORK RAKE | 45mm |
| (H) FORK LENGTH | 370mm |
| (I) HT ANGLE | 72.9° |
| (J) ST ANGLE | 73.3° |
| (K) CHAINSTAY | 410mm |
| (L) BB DROP | 68mm |
| (M) STACK | 562mm |
| (N) REACH | 396mm |
| STANDOVER HEIGHT | 815.7mm |
VITUS VITESSE EVO
VITUS ZX-1 EVO

| | |
| --- | --- |
| (A) SEAT TUBE - CT | 550mm |
| (B) SEAT TUBE - CC | 530mm |
| (C) VIRTUAL TT | 577.7mm |
| (D) FRONT CENTER | 608mm |
| (E) WHEELBASE | 1008.5mm |
| (F) HEAD TUBE | 179.5mm |
| (G) FORK RAKE | 45mm |
| (H) FORK LENGTH | 370mm |
| (I) HT ANGLE | 73.2° |
| (J) ST ANGLE | 73.2° |
| (K) CHAINSTAY | 410mm |
| (L) BB DROP | 68mm |
| (M) STACK | 582mm |
| (N) REACH | 402mm |
| STANDOVER HEIGHT | 833.64mm |

| | |
| --- | --- |
| (A) SEAT TUBE - CT | 550mm |
| (B) SEAT TUBE - CC | 530mm |
| (C) VIRTUAL TT | 581mm |
| (D) FRONT CENTER | 611mm |
| (E) WHEELBASE | 1012mm |
| (F) HEADTUBE | 164.5mm |
| (G) FORK RAKE | 45mm |
| (H) FORK LENGTH | 370mm |
| (I) HT ANGLE | 73.2° |
| (J) ST ANGLE | 73.2° |
| (K) CHAINSTAY | 410mm |
| (L) BB DROP | 68mm |
| (M) STACK | 578mm |
| (N) REACH | 406mm |
| STANDOVER HEIGHT | 831.65mm |
VITUS VITESSE EVO
VITUS ZX-1 EVO

| | |
| --- | --- |
| (A) SEAT TUBE - CT | 570mm |
| (B) SEAT TUBE - CC | 550mm |
| (C) VIRTUAL TT | 587.7mm |
| (D) FRONT CENTER | 618.2mm |
| (E) WHEELBASE | 1018.8mm |
| (F) HEAD TUBE | 196.1mm |
| (G) FORK RAKE | 45mm |
| (H) FORK LENGTH | 370mm |
| (I) HT ANGLE | 73.5° |
| (J) ST ANGLE | 73.5° |
| (K) CHAINSTAY | 410mm |
| (L) BB DROP | 68mm |
| (M) STACK | 599mm |
| (N) REACH | 410mm |
| STANDOVER HEIGHT | 852.12mm |

| | |
| --- | --- |
| (A) SEAT TUBE - CT | 570mm |
| (B) SEAT TUBE - CC | 550mm |
| (C) VIRTUAL TT | 592mm |
| (D) FRONT CENTER | 623mm |
| (E) WHEELBASE | 1024mm |
| (F) HEADTUBE | 181mm |
| (G) FORK RAKE | 45mm |
| (H) FORK LENGTH | 370mm |
| (I) HT ANGLE | 73.5° |
| (J) ST ANGLE | 73.5° |
| (K) CHAINSTAY | 410mm |
| (L) BB DROP | 68mm |
| (M) STACK | 595mm |
| (N) REACH | 416mm |
| STANDOVER HEIGHT | 850.13mm |
---