Hap Seliga, the head honcho at Vitus North America, has always loved two things: bicycles and art. Hap felt inspired to combine these two passions into one heck of a dream build. The Rapide FS, our XC race bike, has been customized into an eye-popping showbike that's ready to turn heads at Sea Otter. Meet the Pop Art Rapide.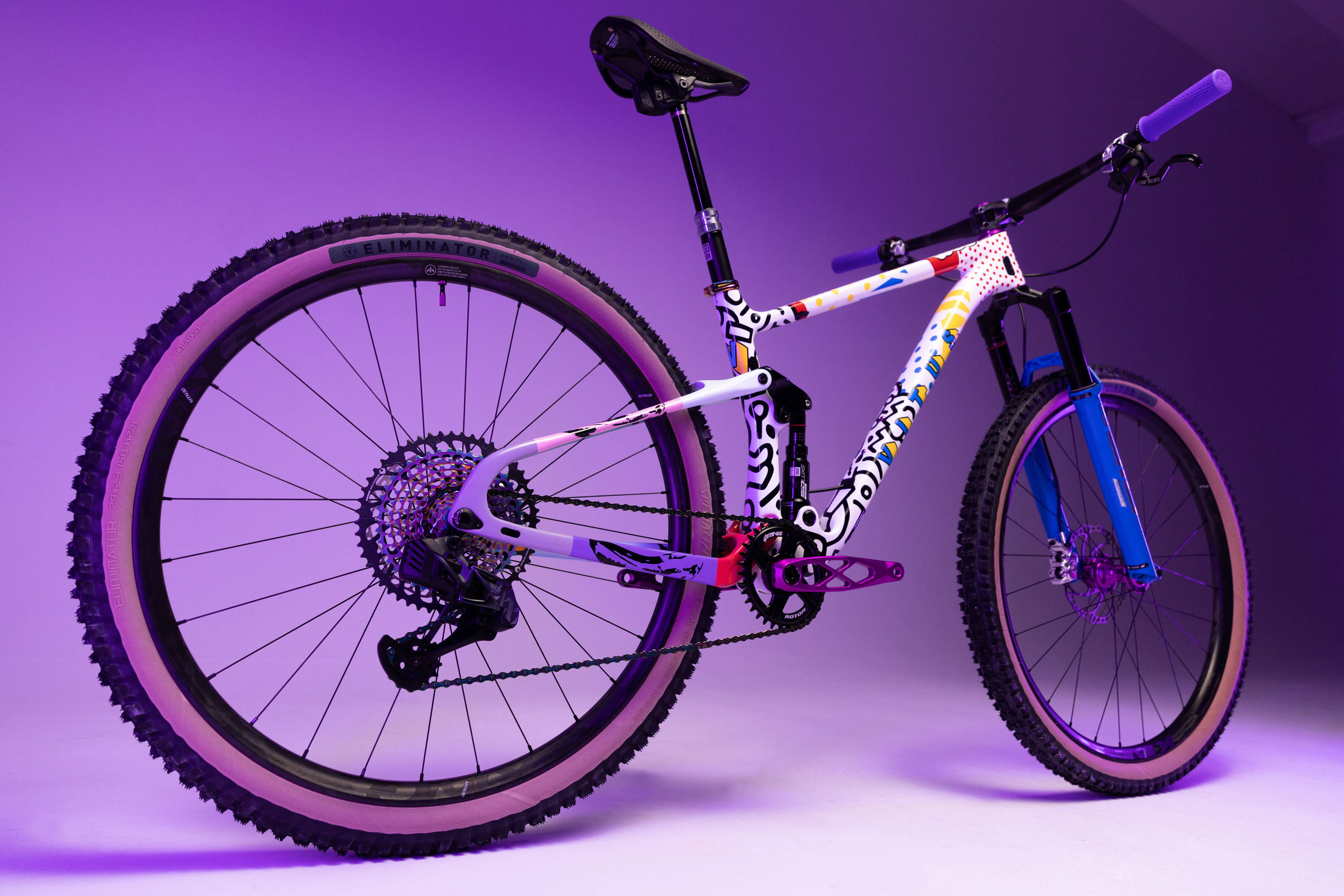 Pop Art was an art movement of the late 1950s and '60s that was inspired by commercial and popular culture. While it didn't have a specific style or attitude, Pop Art was defined as a diverse response to the postwar era's commodity-driven values, often using commonplace objects (such as comic strips, soup cans, road signs, and hamburgers) as subject matter. Andy Warhol, Yayoi Kusama, Keith Haring, and Roy Lichtenstein are just a few of the creators associated with this movement. Their works often transcend the confines of the fine art world.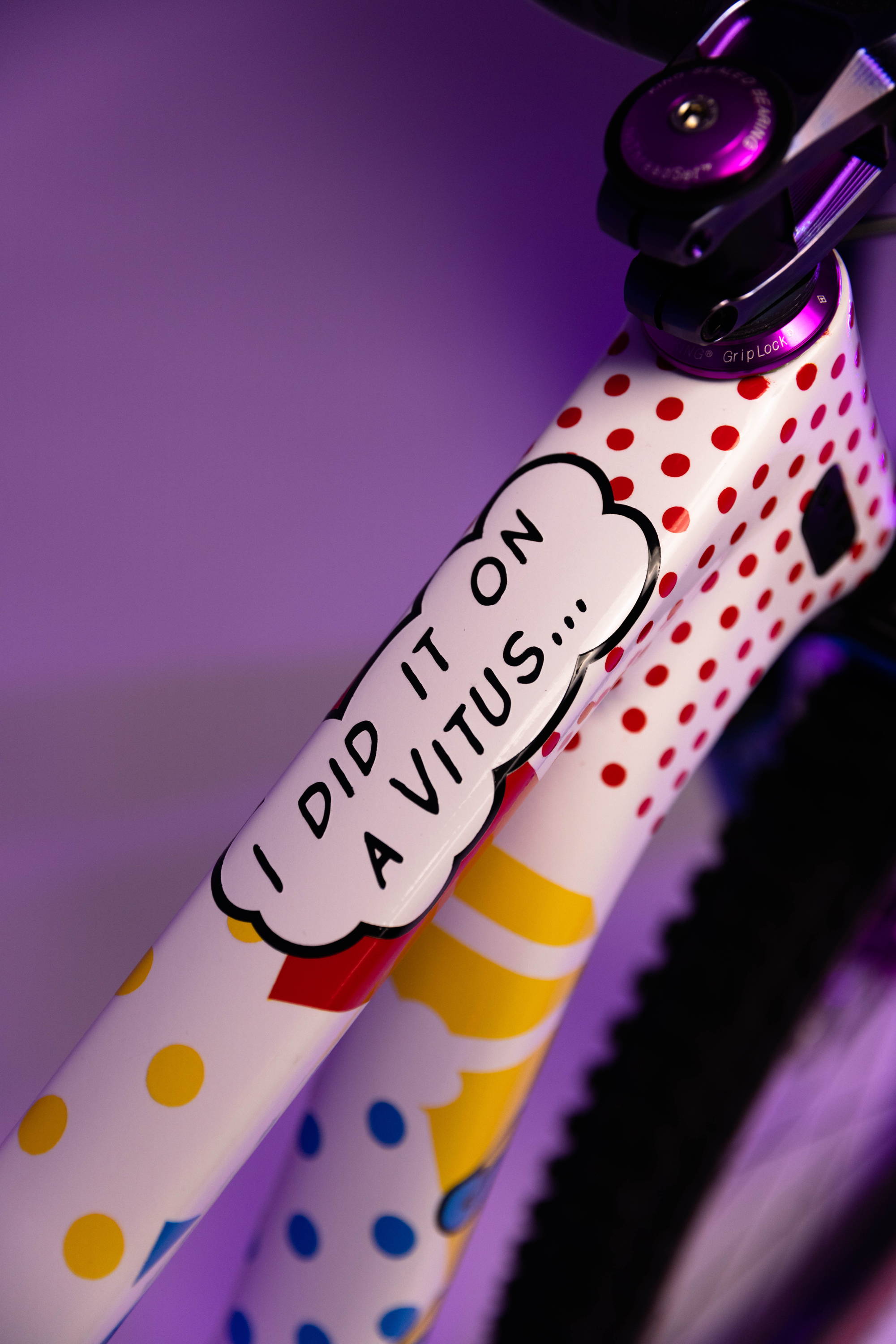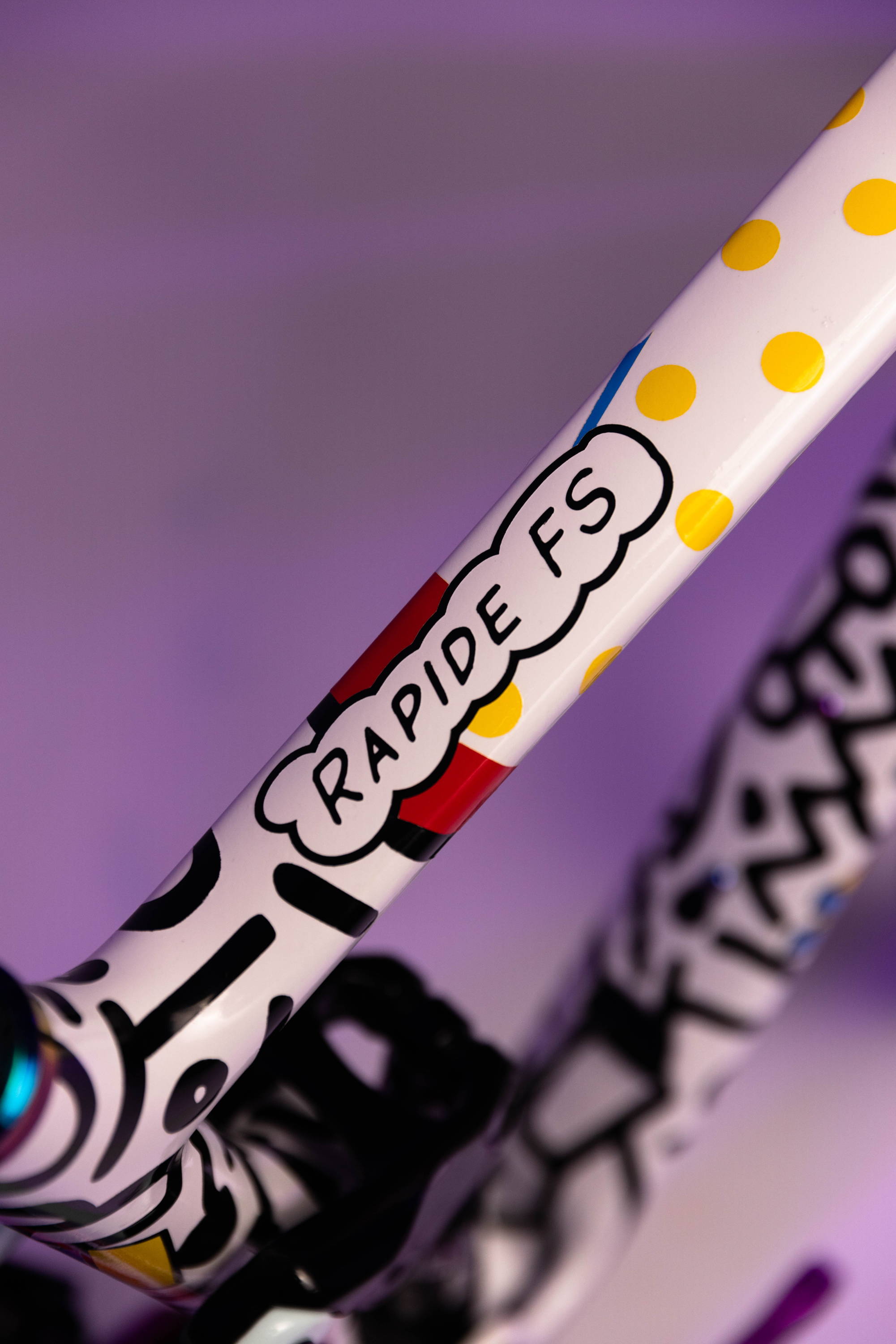 As Hap puts it, "The bike has been a cultural centering point for me and many others. Like Pop Art, riders or artists or anyone can express themselves in virtually any way possible, from the everyday utilitarian use to iconic maneuvers. Riding a bike is the time from which I draw my own creativity – it's an escape from life, it's mental freedom, it's inspiring, it's an exploration, it's exhilarating, it's healthy and above all, it makes me feel good because it's fun. I love the adventure of it all."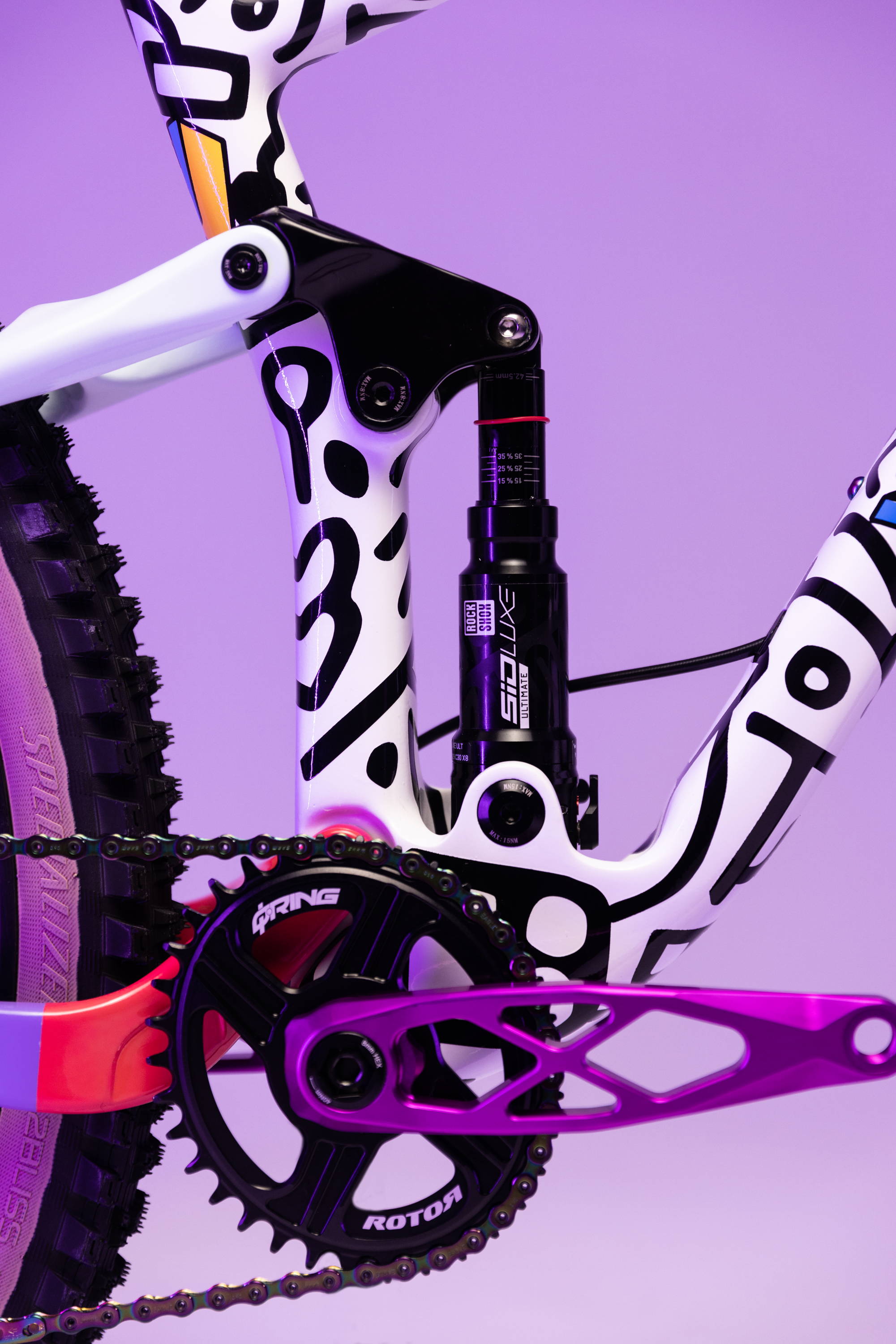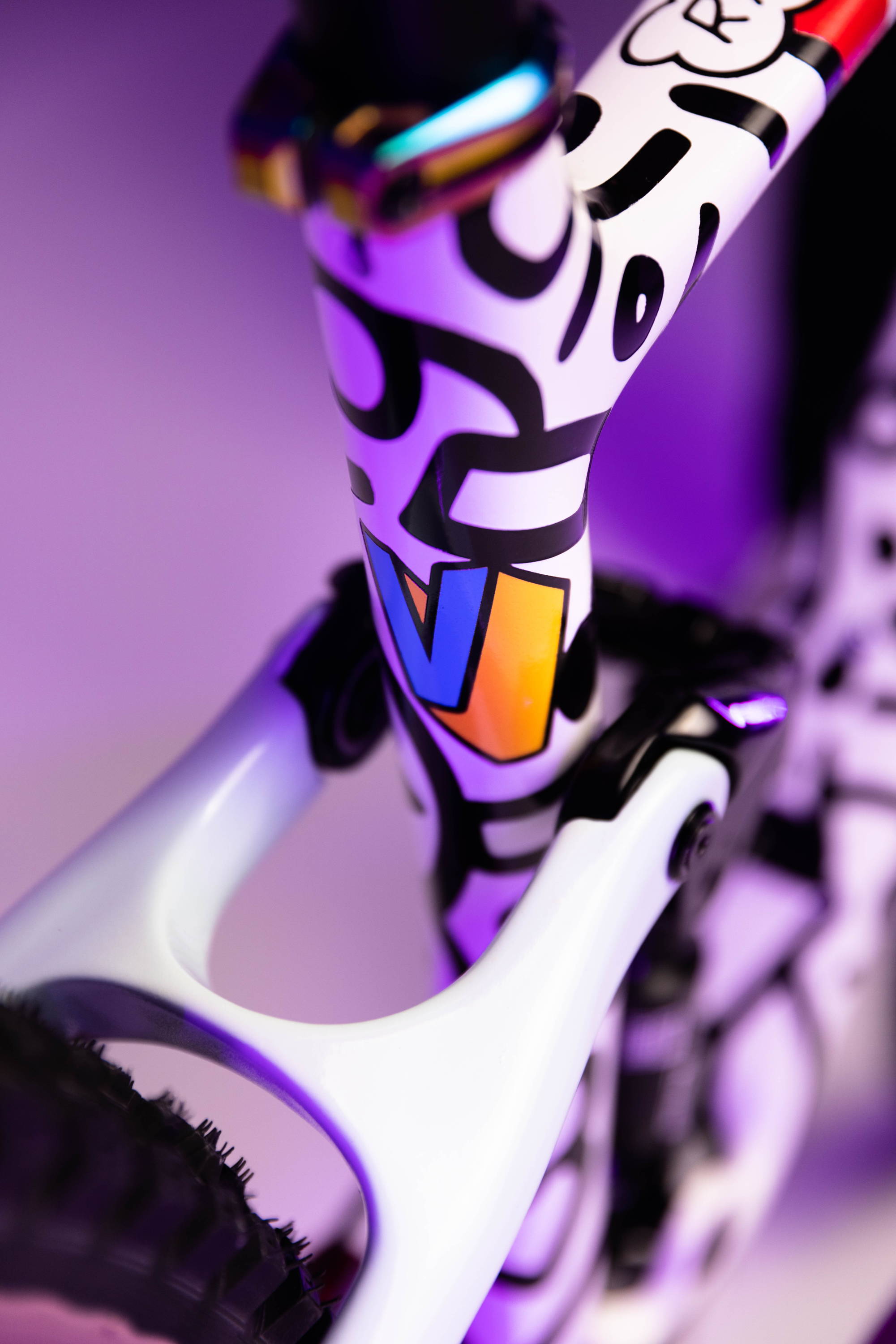 Hap gave complete creative control to Vitus Creative Director Lynda Maldonado and painter Curtis Bullock (aka @savethepostalservice) to transform his Pop Art dreams into a rideable reality. The team selected Curtis for his signature bold colors and Pop-inspired patterns. A Rapide FS was sent from Vitus HQ in Park City, Utah to Curtis' studio in Portland, Oregon, where Curtis painstakingly hand-painted the custom graphics using laser-cut vinyl decals and multiple coats of Spray.Bike spraypaint.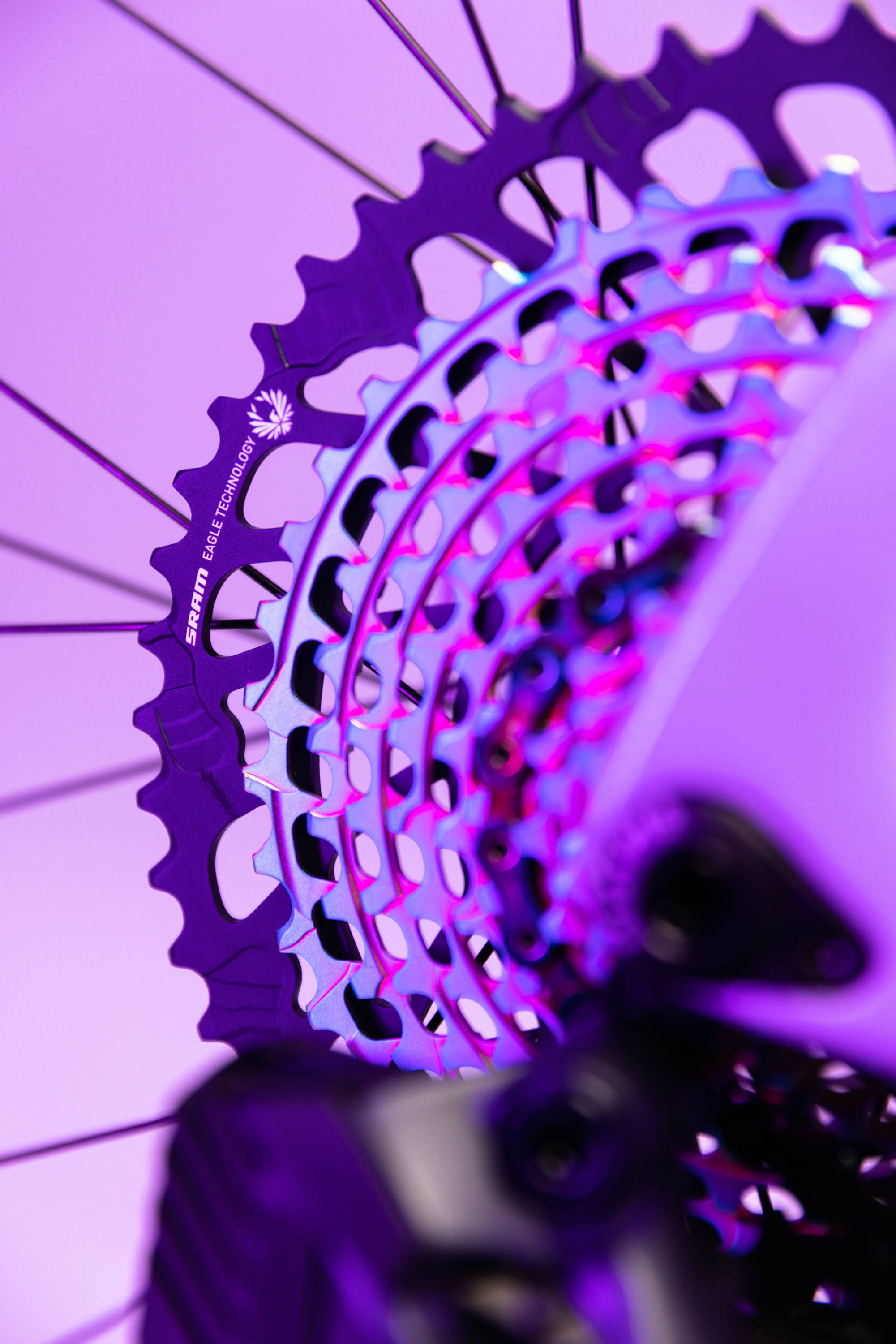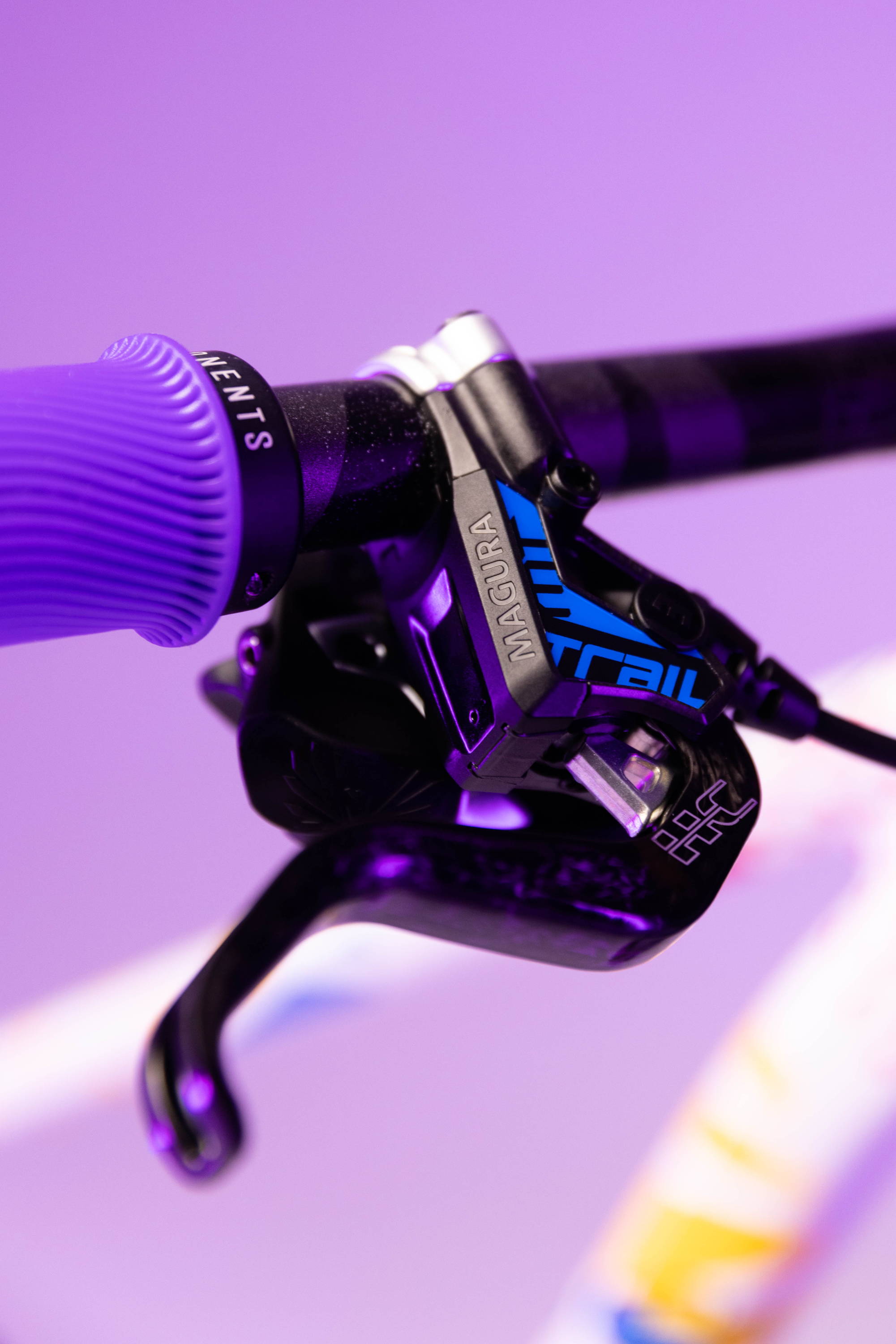 As soon as the frame was painted, it was sent back to Utah and built up with a selection of top-tier components. Even part selection was a deeply personal process –Hap selected the build kit from companies that he's had a hand in throughout the years. Props to Chris King, SRAM, 5DEV, Magura, PNW Components, and Rotor for making the bling that elevates this custom build.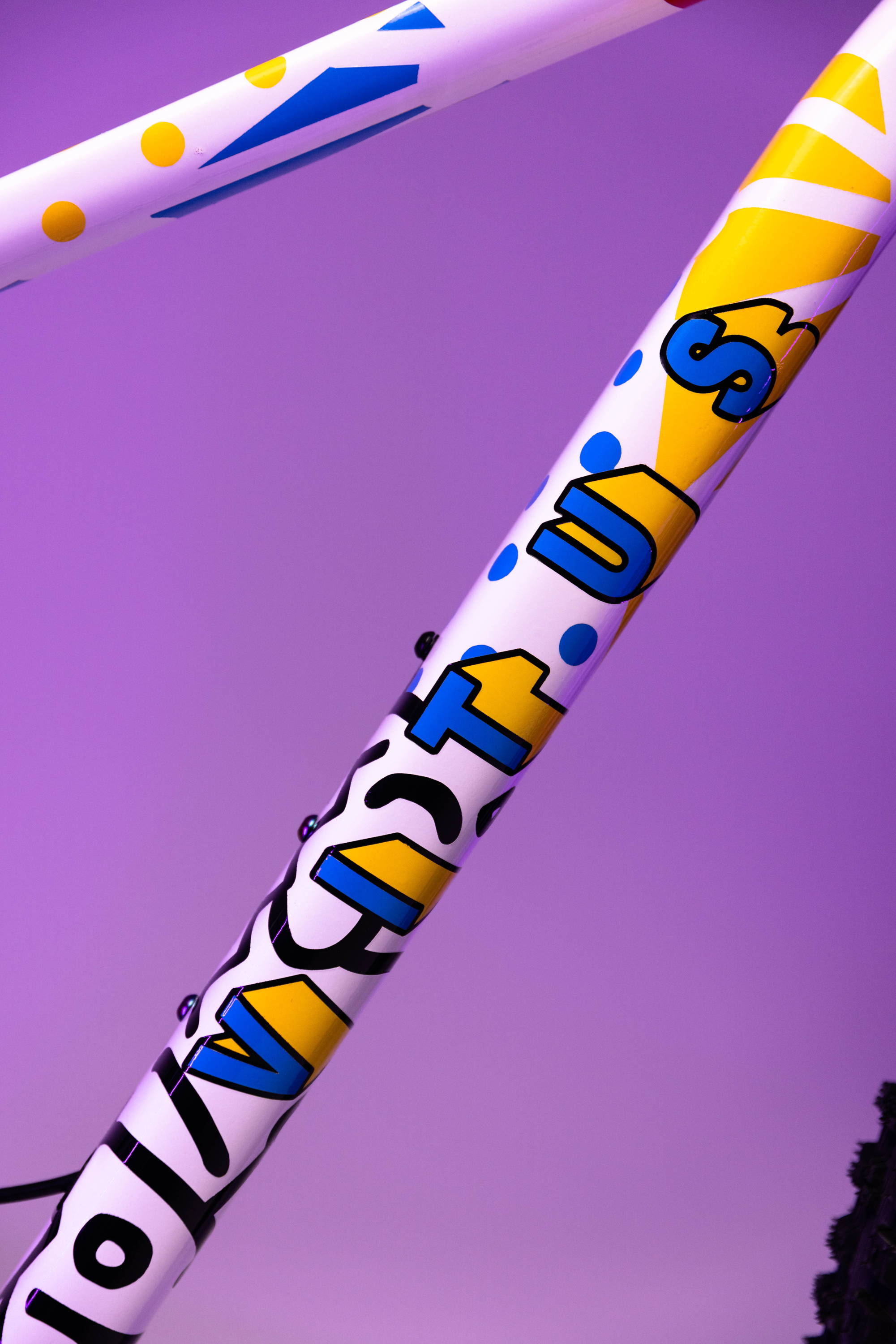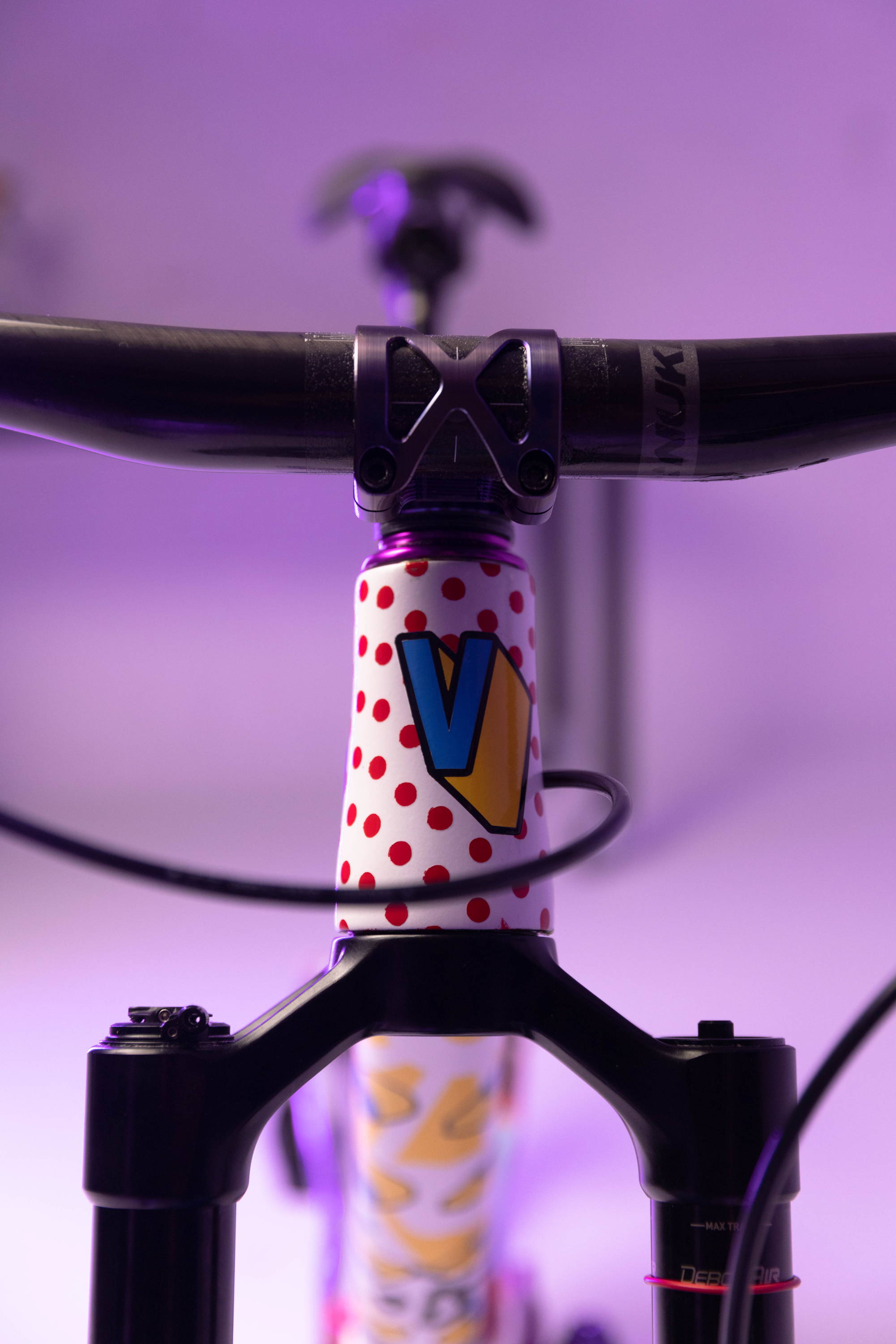 Hap said, "Like looking at a piece of art, this emotion, this joy, should be available to everyone. The inspiration for this project is to embrace the freedoms, diversity, emotion and fun of both bikes and art."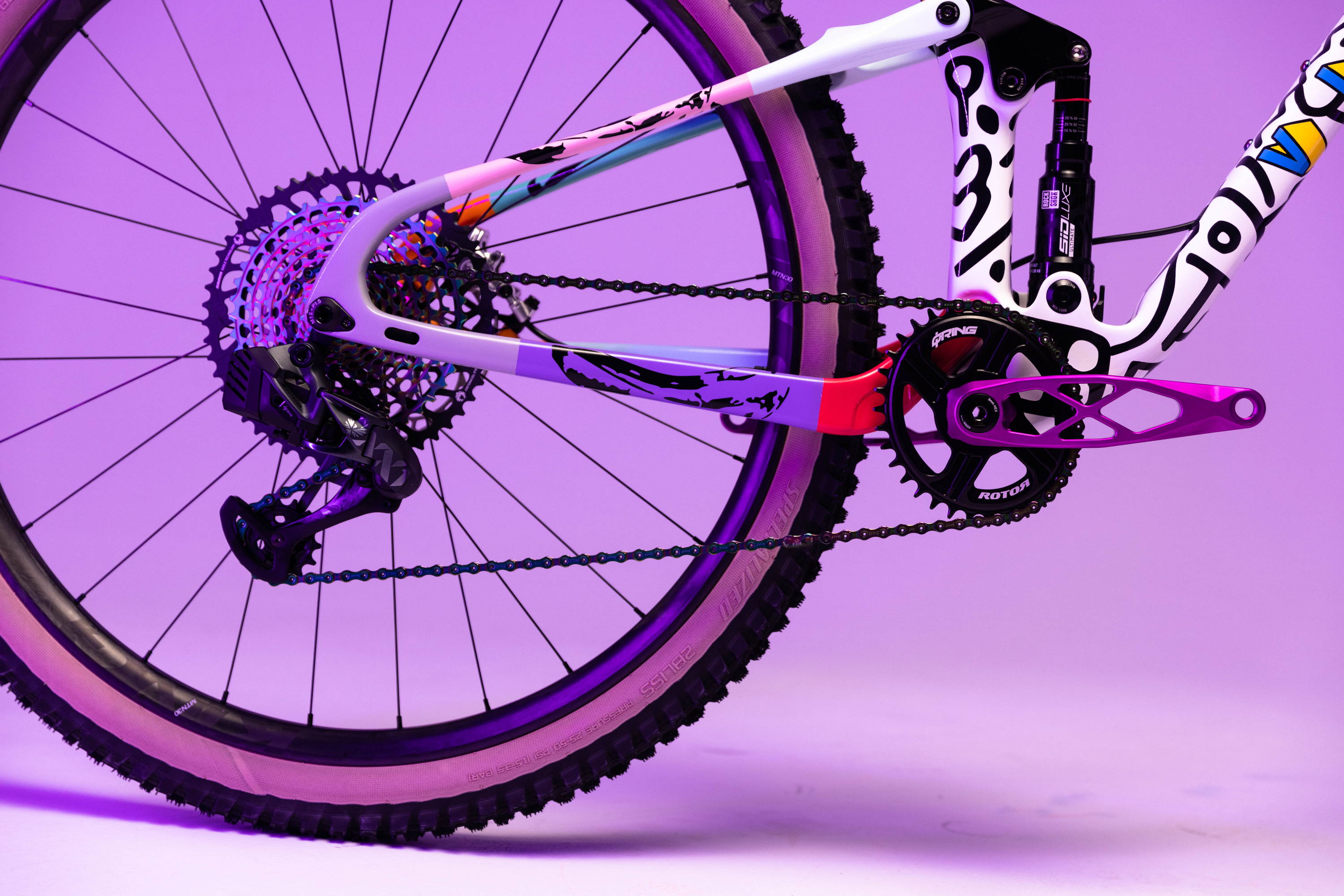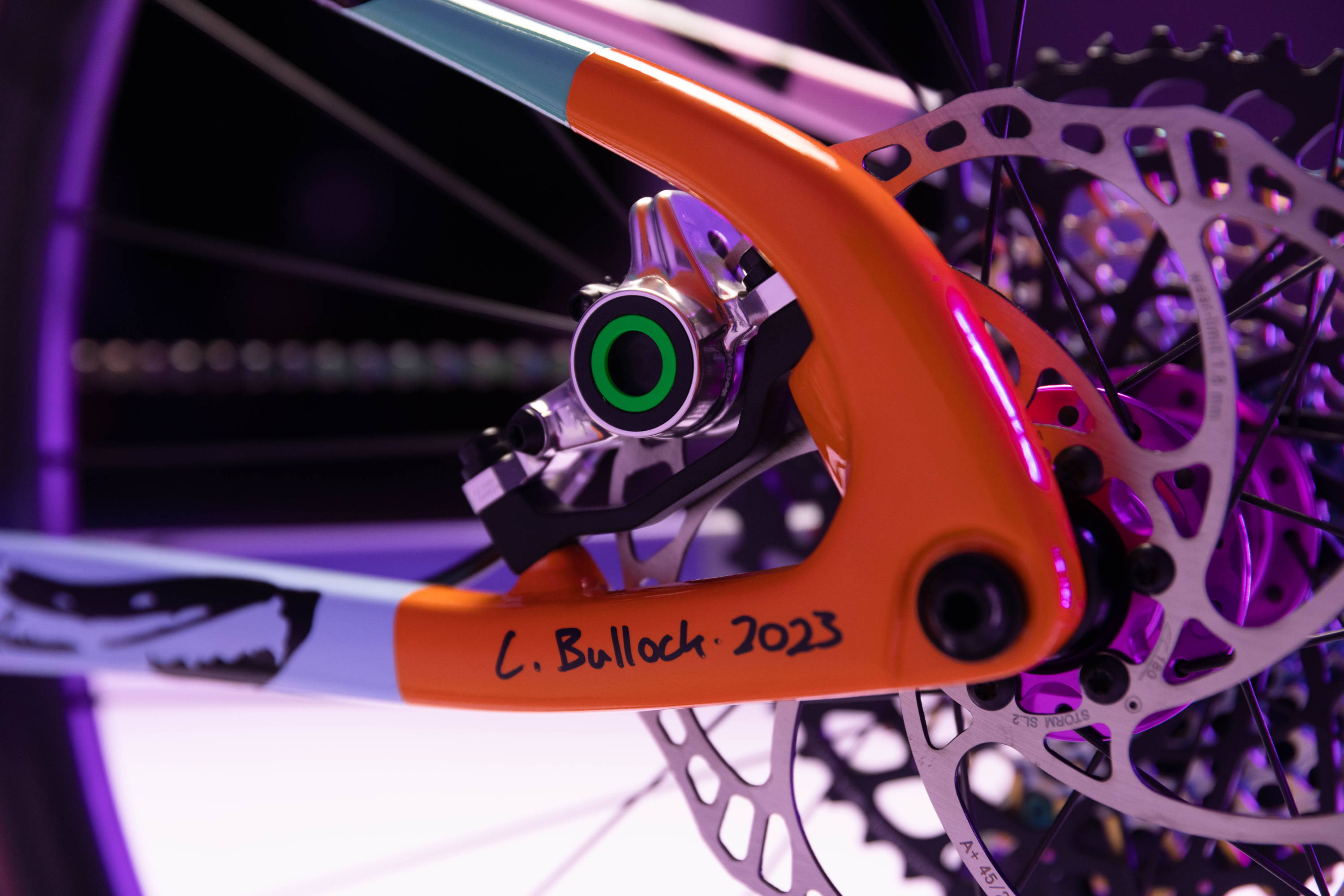 BIKE CHECK
Frame: Vitus Rapide FS, Size Small 
Headset: Chris King 42/52 tapered integrated 
Handlebar: Nukeproof V2 Horizon Low Rise, 35mm x 780 
Stem: 5DEV, 35 clamp x 48mm 
Grips: PNW Loam Grip, purple 
Bottom Bracket: Chris King 68/73, threaded, 3D violet
Saddle: Specialized Power S-Works Mirror 
Crankset: 5DEV, Dub 29mm, 170mm crank arms, purple 
Fork: Rock Shox SID 120, 44mm offset 
Chain: SRAM XX1, oil slick 
Cassette: SRAM XX1 Eagle, 10-52, oil slick 
Rear Derailleur: SRAM XX1 AXS Eagle 
Shifter: SRAM XX1 AXS Eagle 
Rear Shock: Rockshox SIDLuxe, 165 x 42.5 Trunnion Mount 
Seatpost: Rockshox Reverb AXS, 31.6 
Wheelset: Chris King, Boost 15 QR x Boost 148, 3D violet
Tires: Specialized Eliminator 2.3 Grid T7 
Chainring: Rotor Q-Ring, 34t, black 
Valves: Santa Cruz Fillmore, purple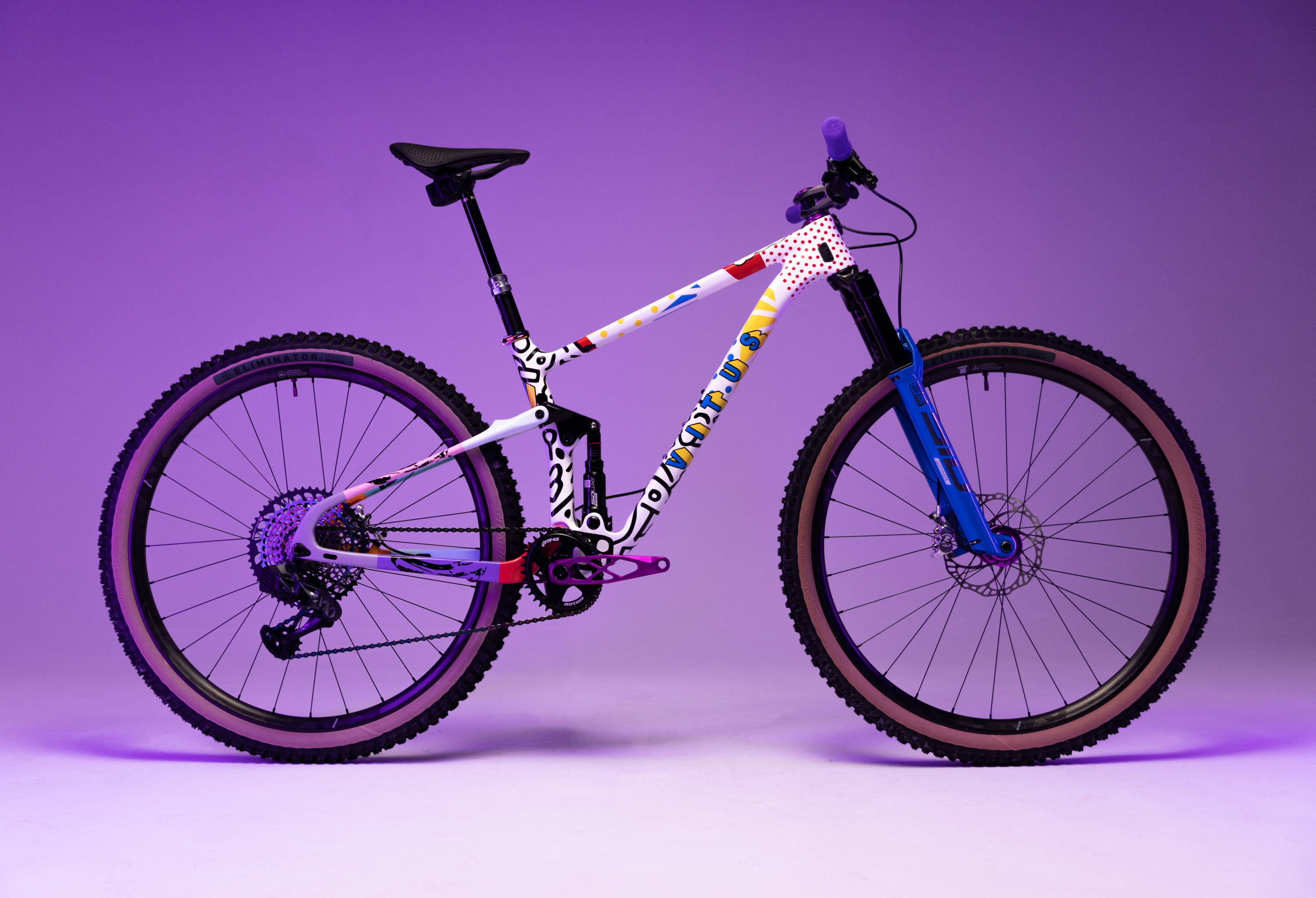 You can check out the Pop Art Rapide FS at our booth at the Sea Otter Classic, Booth R113, April 20-23. The whole team will be there – come say hi! 
---